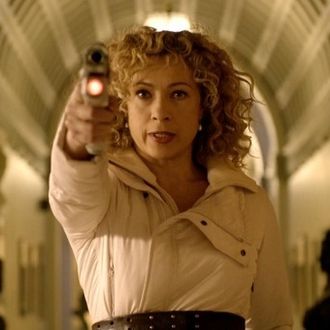 Alex Kingston, whose character, River Song, was intended as an experiment in giving the Doctor a pseudo-wife, returned to the Whoverse in the newest Christmas Special, "The Husbands of River Song." (She last appeared in 2013's "The Name of the Doctor.") Speaking with members of the press, according to The Guardian, Kingston said:
I mean, it was never officially discussed, and I was never officially told, 'That's it.' But enough time had passed for me think, 'Well, that's that.' They'd done a season with a change of Doctor and there was no mention at all of my character coming back. And then I heard — through the fans, actually — that Steven [Moffat] had mentioned it, and Russell [T Davies] had mentioned what fun it might be if they were to explore River with Peter Capaldi's Doctor. And I thought: they're both men who keep things so incredibly close to their chests; they wouldn't even entertain an idea like that unless there was some seed germinating somewhere.
Now that Clara has ostensibly reached the end of her journey, fans are wondering whether River will return as the Doctor's companion. Kingston isn't sure, but she's not ruling it out: "I'd like it if she came back again but, yeah, I think it works best the way Steve [Moffat] has always interpreted their relationship."
When asked about the ongoing debate regarding the Doctor's gender, Kingston offered the possibly incisive response. "It's difficult, I don't know quite why, but I would imagine, if anything, the Doctor might be of a different race than a different gender," she said. "I can't imagine, myself, the Doctor being a different gender. I just think that too many men have played that role [already]."
She went on:
Essentially, if one goes back historically, really it's been a little boys' show, and girls have been brought on to it. Certainly, when I was a girl I loved it as well. But I just feel — I hope that women aren't going to hate me for this — the Doctor has to be a guy, actually. I do … Although it would be very interesting for River if it were a woman!