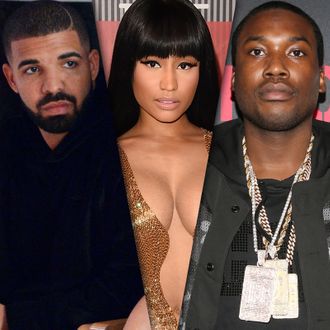 The new Brenda, Dylan, and Kelly.
Photo: Getty Images
Previously on The Bars and the Beautiful … Drake received a Grammy nomination for "Back to Back," his Meek Mill diss track. Also, Mill violated his probation by attending the American Music Awards with Nicki Minaj and could potentially face jail time.
And now, today's episode: As Mill's hearing began Thursday in Philadelphia, the Philadelphia Inquirer reports that Prosecutor Noel DeSantis detailed exactly how little chill Drake fans have, stating that they "blew up" her phone in an attempt to get Mill arrested for violating his probation. The pettiness of interfering in a rap battle to get one of the parties arrested aside, that's actually a pretty clever plot-twist in this continuing drama of Drake versus Mill. That kind of twist is right up there with shoving a pregnant woman down the stairs, or stealing a company out from under your father. DeSantis neglects to confirm whether or not Drake fans are the actual reason he was arrested, seeing as Mill also details every instance he violates his probation on his very own Instagram account.
Since Mill's parents signed the permission slip for him to go on field trips with Minaj, she showed up in court to testify on his behalf. When she took the stand, Minaj said, "He never purposefully goes against rules. He absolutely wants to make this a smooth transition." But she also identified him as "irresponsible" and working on becoming a "a quote-unquote adult." Mill's defense attorney Frank DeSimone agreed and said, "His life is chaos. It's more immaturity than anything else. This is almost a child. He's 28." (For reference, at the age of 28, Minaj had released her debut album Pink Friday, which went to No. 1 on the Billboard charts and was declared platinum within a month.)
Minaj continued her support by offering to do community service for local children with Mill. To which DeSimone added that the "smart businesswoman" would straighten out Mill. The prosecutor, clearly picking up tips in pettiness from Drake fans, countered that Minaj is a "mogul" who is "probably twice as successful as the defendant." At that, the Inquirer describes: "Minaj's eyes widened in a look straight out of one of her videos."
Then, cutting right to the chase, Minaj confirmed that Mill lives with her, and that she would be "sleeping alone" if he went to prison. Is the city of Philadelphia really gonna deny Nicki Minaj her sex life?