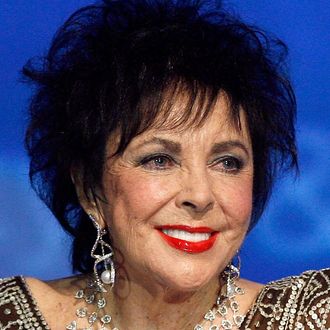 Elizabeth Taylor.
Photo: Vince Bucci/2007 Getty Images
Talking to ET for World AIDS Day on Tuesday, actress and model Kathy Ireland revealed that her mentor — the late star Dame Elizabeth Taylor — had a unique hand in mounting a fight against the disease. Aside from founding the Elizabeth Taylor AIDS Foundation, the activist also participated in the formation of an underground, experimental drug ring (think Dallas Buyers Club, but on the West Coast) and maintained a safe house for patients on her Bel-Air property, according to Ireland.
Not many other details were shared, but "a lot of the work that she did was illegal … she was saving lives," Ireland said, recalling Taylor's fearlessness, dedication, and compassion tied to the cause in the '80s and '90s. "She said her business associates pleaded with her to leave this thing alone. She received death threats, friends hung up on her when she asked for help." You can watch the full report, in which Ireland and Ricki Lake also discuss Charlie Sheen's recent HIV announcement, below.