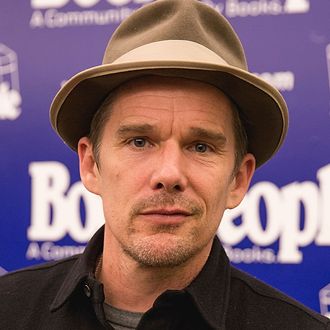 Is that not the face of a dude who is the chillest?
Photo: Rick Kern/2015 Rick Kern
We don't know much about Luc Besson's new sci-fi project, but we do know that he's assembled the chillest collection of actors yet. The director announced on Instagram yesterday that cool hang Ethan Hawke has joined the cast of his upcoming project Valérian, which also includes a few pretty mellow folks like Rihanna, Cara Delevingne, Dane DeHann, and Clive Owen. The film is based on the French graphic novel series Valérian and Laureline, which follows two time-traveling special agents (pretty cool, man) who fight the enemies of the Terran Empire (not chill at all). DeHann will play Valérian, while Delevingne is set to play Laureline. The other cast members have not yet been announced — though it's certain that Ethan Hawke's character will be chiller than the 2.7 degree–Kelvin void of outer space.