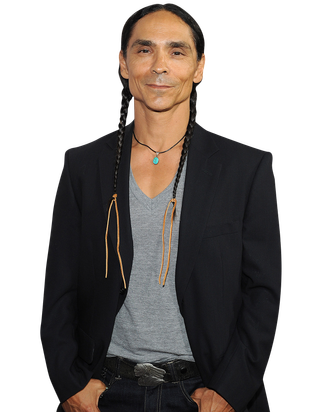 Every time Zahn McClarnon appeared on this season of Fargo, you've known something thrilling or terrifying was about to unfold. As Hanzee, one of the Gerhardt family's most respected henchmen, his allegiances were always tenuous, and his steely resolve and complex inner life proved integral to one of 2015's best shows. McClarnon himself has worked on countless films and television shows since the early '90s — this year alone he appeared in Bone Tomahawk and continued his recurring role as Officer Mathias on Longmire — but Hanzee is undoubtedly a standout. In these past few episodes, the character's own heritage and place in this otherwise white-washed Midwestern world has become a powerful centerpiece of the show. McClarnon spoke to Vulture over the phone from Los Angeles about developing the character, his own backstory, and the types of roles Native Americans get onscreen.
These last few episodes have sort of become the Hanzee Show. Especially in episode nine, your journey is certainly one of the main thrusts.
Yeah, different characters get to pop out in different episodes. That's what's so great, it's really an ensemble. There was Milligan as the centerpiece for a few episodes, then it was Hanzee. It can be anybody's show at any time.
Did you know the direction your character would take before you started, or were you experiencing it as it happened?
I had no idea. We were handed scripts like eight or ten days before we started shooting, so it was always a big surprise whenever we would start. I was amazed where Noah [Hawley] took the story.
You've been working a long time, though this is probably one of your highest-profile characters to date. Can you talk a bit about how you started out as an actor?
I guess I started about 23 years ago. I moved out to L.A. from Omaha, Nebraska. It was a time when Dances With Wolves came out, and I kind of jumped on the bandwagon and have been working ever since. Since the early '90s, actually. I've been consistently working for over 20 years.
What sparked the initial interest in acting?
Probably a play I did in Nebraska in my early 20s. I did Jesus Christ Superstar and fell in love with being onstage, and did some local commercials in Omaha. That experience — being on a set, making a bit of money acting — I fell in love with it. I moved out to Los Angeles in '91 or '92 and started working immediately.
You grew up on a reservation, correct? Or you spent part of your childhood on a reservation?
I grew up in Glacier National Park in Yellowstone. My grandparents lived on the Blackfeet Reservation, which is about 20 miles from where I lived in Montana. So on and off I was on the reservation with my family, on weekends or for chunks of time. My mom grew up on a reservation in South Dakota, and then moved up to Blackfeet in the '50s.
Hanzee's Native American heritage has become a large part of who he is and what he stands for, whereas earlier in the season, his background was more of a mystery. Did you create your own story for this shift in his character?
I did. Like you said, there wasn't a lot written on the page about him, other than he was adopted at nine years old by the Gerhardt family, which was actually going on a lot in the '60s and '70s — a lot of kids being adopted out of their families into other families and relocated into other environments. So I know he went through that. And then being in the war, you know, that would have a big impression on anybody. He was this tunnel rat in Vietnam, sending the Indian down into the tunnels. I also drew from my own experience growing up in the '70s as a Native American, being on the reservation and also living on the border of a reservation, and experiences I had with racism, on both sides. Being a mixed Native American, because my father was an Irishman, I saw both sides of it.
So that racism is vivid in your own memory?
It's very vivid. Not being served in restaurants in the early '70s. I remember it vividly. They didn't come up and say, "We're not going to serve you," they just left us sitting at the table and then didn't ask for our order for 45 minutes. And it's still going on. You'd be surprised how racist these border towns are. Not just white people being racist against Natives, but Natives being racist against white people as well.
Native American actors have gotten some attention this year — there was the controversy with Unbreakable Kimmy Schmidt on Netflix and the walkoffs on the Adam Sandler movie, The Ridiculous Six. Are these things that people have been talking about a lot in your own community?
Yeah, they are. I had friends who worked on that Adam Sandler film. I wasn't there, so I don't know exactly what took place and who exactly walked off the set. I think it was mainly background actors who did. I have had conversations with a few of the actors who were principals on the show. I have an open mind about seeing [the movie] because of the content of the film, you know, it's ridiculous. It's called Ridiculous Six so they probably make fun of everybody. I do know that for me, personally, I wouldn't have been part of that film. That's just me, personally.
You often play very specifically Native-American characters. Does that ever frustrate you?
I have played characters where race isn't a centerpiece of the project, certainly. A waiter, a bookie, those kinds of things. There are casting directors who see past it, though we definitely have a long way to go. I did a movie recently where I'm playing a drug runner, and he's not — there's really no race as a part of the character, he doesn't discuss his ethnicity at all. So things are happening, we'd like to see more obviously, but they are happening, and it's taken a positive turn. There does need to be more, though! [Laughs.] There should be more Natives on TV.
In your dream role you'd create for yourself, what would you play?
The reality is, I look ethnic. So, I've played Latino roles, and I've played Native roles. I'm dark-skinned. I'd love a role where I'm playing a father, a loving husband, a relationship-based movie. A child and father, father-son kind of thing. I do a lot of that stuff in my classes I take, and I have a lot of fun doing it. Just being a human being and relating to another human being.
You still enjoy taking classes?
Yeah, I've been studying for quite a few years in Los Angeles. I always go to class when I'm not working. And it's kind of where I get off, you know? Because the majority of the time I'm not going to be cast in these roles. And acting is acting. In a classroom, in front of a group of people, or in front of a camera. I still get off on that whole process.
The Fargo finale is coming up tomorrow night. Have you seen the final episode yet?
I haven't seen the final episode, though I do know where it's going, and I think the audience is going to be … pleasantly surprised. It kind of ties everything up and ties the two seasons together. I've been so fortunate to be part of a show where such a talented group of people have been put together.