Iam ashamed to admit this, but the main thing I wondered after meeting Raffi — the beloved children's entertainer, the one-man Beatles of my childhood and many childhoods — was how often, if ever, he had sex with his grown-up fans. That is, whether those who had loved him in their childhoods would want to have sex with him now that they were adults. This question came about because I had a moment when we were talking (over tomato salad and soda water, in a restaurant high up in a hotel, overlooking a glittery November Lake Ontario) and we were discussing whether we would meet up the next day to play backgammon (we share a love of the game). This plan didn't ultimately come off, but 20 minutes after the topic had passed, while still conducting the interview, the thought flashed through my mind: What would it be like to have sex with Raffi? A tremendous volt of electricity went through my body, and my body said yes. In effect, it said, Yes, Sheila, you are a pervert.
Yet I saw, at his concert a few days later — Raffi has a new album, Owl Singalong, due out January 15 — women my own age with their tiny tots, shaking with excitement. One curly haired mother looked at me after the meet-and-greet and yelled, "I'm more excited than she is!" grasping the hand of a 5-year-old. The mother was squealing and stomping her boots on the ground. Do women hit on Raffi because he's Raffi? Or would they be horrified if he made a pass? He got divorced in the late '80s, around the time he was 40, and did not remarry. Anyway, for days, I pestered my friends with these questions, I pestered my boyfriend with these questions, I couldn't get these questions out of my mind, until, finally, my boyfriend told me to shut up about it, which is reasonable.
Raffi is arguably the world's most famous children's singer. Now 67, he began his career in the mid-1970s, when his then-mother-in-law invited him to play music for children in the school where she worked. (His then-wife, Deborah Pike, was also a schoolteacher.) He had been trying to make a living as a folksinger, playing small bars and coffee shops in Toronto, hitchhiking across Canada, singing Bob Dylan, Joni Mitchell, and Leonard Cohen. Although the children's gig was at first to supplement his income, and singing for adults was what he most wanted to do, he wrote in his 1999 autobiography, The Life of a Children's Troubadour, that he "hated singing to inebriated audiences who couldn't care less if [he] was there or not."
He was apprehensive around children at first: "In the days of my child-ignorance, when I was introduced to kids, I acted in a dramatic way to produce a reaction, as if provoking a response showed that I was 'good at meeting children.' Before long, I came to understand that just as adults need room to size up a stranger on first meeting, so do children." Eventually he began to relax and enjoy himself, able to see each child in his audience as "whole people." After months of supplementing his folksinging by performing in schools, Deborah's mom suggested he make a children's album. She explained there was a dearth in the market, and after a bit of research, he and his wife decided she was right.
By this point, in 1976, Raffi had already released one album, Good Luck Boy. It was a well-received folk record for adults, which he mostly self-produced and released on his own label, Troubadour. It shows little hint of the future children's entertainer. A lyric from "Play 'Melancholy Baby' Sweetheart" goes: "19-year-old Nancy / Has some bruises to explain / She says her old man had been drinking / And he beat her up again." On YouTube, the only upload of the album has fewer than 2,000 listens.
He recorded 19 children's songs in a friend's basement with $4,000 he and Deb borrowed. That the songs be "singable" was important. He wanted to include tunes that children could make their own — songs like "Down by the Bay," with absurd rhyming verses a child could invent while signing. For some tracks, Raffi enlisted his friends' children. He said, "It was a deliberate choice to have their voices sound as natural as possible. Their singing voices have a charm all their own. It's not about the pitch, it's about the child, and how it makes you feel."
The album was released in November 1976 and was titled Singable Songs for the Very Young. The cover shows Raffi drawn in crayon by a child, and the phrase, "great with a peanut butter sandwich." ("Today I might have said almond butter. Less allergies.") He drove the album to record stores, and soon sold out its first pressing; in time, scalpers began selling seats to his concerts for $300.
Though he was reluctant to abandon singing for adults, by 1978, he'd embraced his "new calling," with the encouragement of his wife and friends who helped him "get over the notion that this musical path represented a lesser road. I realized that, if anything, there was something rare about devoting oneself to making music for children."
Since those early albums, he's put out 24 more; many reaching gold and platinum status, all of them on Troubadour. The letters on his website range from, "This is a serious email. I think Raffi should run for president of the United States," to "Your music is the soundtrack to my childhood." The filmmaker and screenwriter Sean K. Robb told me, "Raffi was my first rock star. The sound of his voice is imprinted on my brain. I would be more nervous meeting him than almost any contemporary artist I enjoy."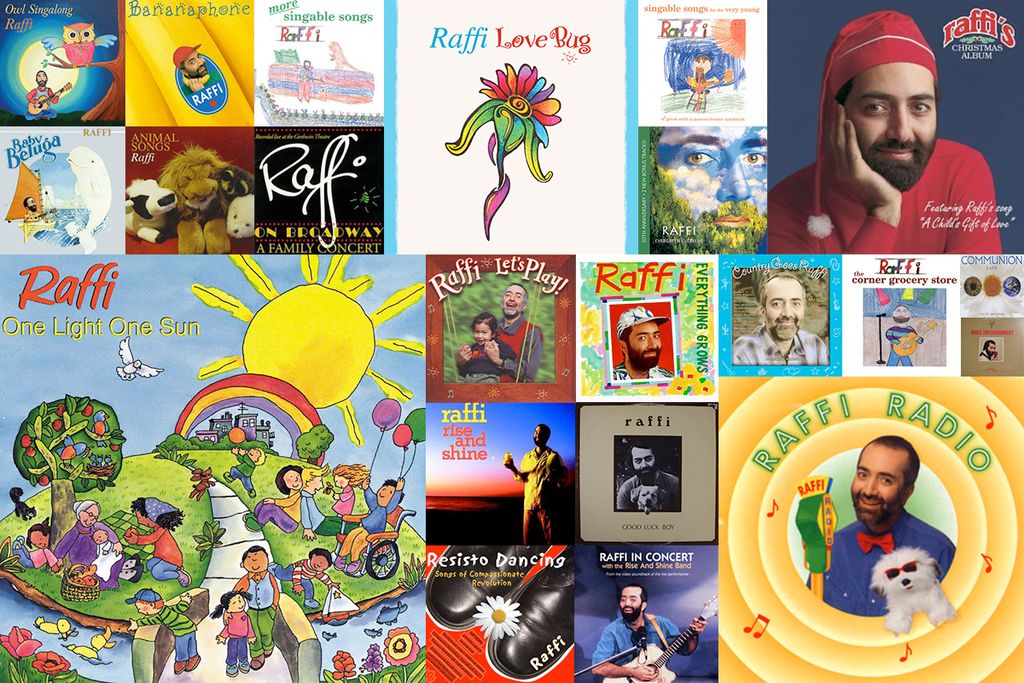 My interview with Raffi got off to a weird start. He was warm, attentive, calm, and gracious. I quickly had to let him know that I was a fan, and that "Down by the Bay" was my favorite of his songs. Even today, when I think of it, a whole landscape of strange shapes and colors and moods enters me. I asked him if he wrote it. He said that, actually, "It is an old, old song. It may have been a World War I song."
Sheila: Down by the Bay?

Raffi: Yes. It came from England. So, anyway, when I went to record it, I wanted to make up my own rhymes. They weren't all mine, but a few of them are.

Sheila: Is "where the watermelons grow" part of your adaptation?

Raffi: No, that's part of the original. "Back to my home I dare not go —"

Sheila: It's a war song? Like, soldiers would sing it?

Raffi [interested]: You're asking me to reflect on the song in a way I never reflected before. Thank you.

Sheila: Actually, that kind of makes sense …

Raffi: It does kind of make sense. Wow! "Back to my home I dare not go …"

Sheila: Because you're a soldier. So if you go back home …

Raffi: Oh my God. Sheila!

Sheila: Maybe it's the Bay of Fundy or something. Or the Bay of Pigs!

Raffi: Maybe it's somewhere watermelons grow, you know. They don't grow in England, I wouldn't think.

Sheila: No, they grow wherever they're fighting their war — wow!






Days later, researching at home, I found no evidence of "Down by the Bay" being a war song. We had both, like children, raced off with great excitement and innocence on an imaginary track.
Raffi Cavoukian was born in Cairo in 1948 and moved with his Armenian parents to Toronto when he was 10. His father later explained to him, "Montreal had too much snow, and New York was too big, so I chose Toronto."
His mother, Lucie, was a teacher, and his father, Arto, a portrait photographer who had been a musician back in Cairo, played the accordion at King Farouk's wedding reception. His grandfather was a painter, and he was named by his mother after the celebrated Armenian writer Hakob Melik Hakobian, who used the pen name Raffi. In Arto's flourishing Toronto portrait studio, he hung photographs of many luminaries he'd photographed — Indira Gandhi, David Ben-Gurion, Charles de Gaulle; Arto's portrait of the Queen Mother adorned her Christmas cards that year.
"My mother," Raffi told me, "I remember so well, she'd say, 'Raffi, the governor-general wants us to do official portraits, and we do this not for money but for honor.' I think they used to charge them cost plus 10 percent. They felt they were serving their new country that offered their family freedom."
His father never entered photography contests "because he felt he was the best — in that sweetly artistic ego sense." Perhaps following in his footsteps, for a long time Raffi refused to have his albums or DVDs, which have cumulatively sold in the neighborhood of 15 million copies, entered in the Junos (the Canadian equivalent to the Grammy Awards). In his autobiography, he writes, "Quite simply, I didn't see much point in having a competition for 'best children's recording' when children knew what they liked." He confessed that he also may have been too competitive to risk losing.
Raffi's parents died when he was 48, within hours of each other: his mother, first, from cancer; and his father, who had been diagnosed with Parkinson's disease, apparently from grief. "That just knocks the wind out of your sails. Something really dramatic changes." He decided to take stock of his life and began working on his autobiography. I wondered whom he expected to read it, since most of his fans can't read.
"Adults!" he said. "Gee, if I was a fan of Raffi and my kids couldn't get enough of him, I'd want to know who this person was. I'm sad that the book hasn't become a best seller. I expected it would. It doesn't matter. I've long made my peace with it."
In the autobiography, he refers to himself as a "melancholy" and "oversensitive" child who often felt mocked and bewildered. "When [my parents] had company, it seemed that I was always being made to recite a poem or sing a little ditty," an experience he calls "dreadful." He rues the corporal punishment he was subjected to in schools in Egypt, and laments his parents' inability to see him as a being separate from themselves. "My mother would increasingly say, 'We take our life from you.' … She said it over and over, with great emotional force, as if she were imploring me not to deny her my life-energy … [It] confirmed what I had felt growing up — that I didn't exist other than as a part of my parents."
I'm sure, as a kid, I never once thought about Raffi's other fans. A girl he described in his autobiography cried when she attended a Raffi concert, asking her mother why all those other kids were there. I can relate. His term for grown-up Raffi fans, "Beluga grads," annoys me. I don't feel part of any contingent. My relationship with Raffi felt intimate and exclusive. Patricia Boushel, a former producer of the POP Montreal music festival, says that "Baby Beluga," perhaps Raffi's signature song, was "as far as I can trace, the root of a sense of identification-as-kinship with other living beings." The Vancouver-born journalist Aaron Maté told me that one year, as a child, he dressed as Raffi for Halloween.
One commenter on a "Baby Beluga" YouTube video says: "This song is the best thing that has ever happened to man kind. Another: "I heard he wrote his songs from Vietnam." Another writes: "A god among men." One commenter from Bulgaria said: "BRAVO RAFFI! THE CHILDREN ARE VERY, VERY, VERY HAPPY WITH YOU! GOD BLESS YOU! YOU LOVE THE CHILDREN ENDLESS! THE CHILDREN LOVE YOU ENDLESS, TOO! THIS IS FANTASTIC! BRAVO!"
Raffi's voice is handsome, pure, clear, and full. He has what all great singers have — emotion, soul — that magical ingredient that conveys the atmosphere of other worlds in his songs. You feel him singing directly to you, in an atmosphere of gentleness and fun. As we spoke, I commended him on his music not being too hyper or smiley (then I dissed the children's singers Sharon, Lois & Bram, and felt bad about it).
He said he didn't want to make the music "frantic." "I wanted to be a calm, musical sort of presence. My music has not been as fast-tempoed as it could be. It's just been fast enough to be interesting to the genre I was playing."
Raffi doesn't have any grand theories about why his music has been so successful, but he credits a group called the Babysitters as early inspiration. While researching children's albums in the mid-'70s, he noticed that "what I liked best as an adult listener was music that was not cloying and overly syrupy. I knew that I wanted to sing with love and respect and also be playful. You're not going goo-goo ga-ga. Why would you? I just tuned in to my own compassion for the little boy I had been when I was very young. I think compassion guided me through the music and my career."
This also affected his choice of songs; on his Christmas album, he decided not to include "Santa Claus Is Coming to Town" because of the lyric "He knows if you've been bad or good." "I mean, it's a cute song lyric, but it's not okay in terms of how we ought to see children. Everybody's good and bad. It doesn't mean you don't get presents at Christmas."
Although he doesn't sing much for adults anymore, it wouldn't be hard to switch. He says the main difference between singing for adults and children is "the material, obviously. If I'm singing a love song, I treat that the way the song needs to be treated. You go with the repertoire. But I am who I am when I'm singing, that doesn't change."
Growing up, I never knew that Raffi turned down celebrity endorsements, TV shows, and specials and refused to make merchandise, but it makes sense given how I think about him: My memories are limited to his voice through the record player and the album covers I stared at. I'm not sure I would have even recognized Raffi if he was walking through my school playground. I didn't realize he lived so close — in Toronto, like me. His ambitions haven't been bottomless. The producers of Shrek wanted to do a "Baby Beluga" film, but when Raffi learned they would advertise directly to children, he said no. He turned down an invitation to play Madison Square Garden because he thought the venue was too large; it wouldn't be a quality experience for his fans. He wrote, "Credibility was worth much more to me than anything … I wanted to set an example for children, to say that purpose was paramount in life."
While writing this piece, I couldn't stop singing Raffi songs. I began to wonder why I didn't listen to Raffi more, why I had ever given him up. The novelist Jowita Bydlowska, whose marriage recently ended, said she sometimes plays Bananaphone for her and her son when "things approach sadness," and that it invariably "makes things seem less bleak."
The poet Leopoldine Core wrote me, saying, "I kissed a boy in my loft bed as a little girl, and it freaked him out. He was older than me, but I guess not as advanced, or just not into it. He went home, and then I listened to Raffi and felt very grown-up in my lust and my sorrow. I will always remember that. His songs went so deep. It's like he spoke to the part of me that was starting to be erotic. Raffi made us all feel so free and honored and respected. So whatever thoughts and feelings we had, the songs held us in their palm all the while. It felt safe to grow, to become. It was the right soundtrack to my first sexual thoughts."
I read this quote to Raffi during our second interview, and in transcribing the tape, I'm surprised to hear how rapidly I recited it, and how garbled and hesitant my question became: "I thought it was kind of amazing she had that memory, and I wonder — when you're a teenager, you fall in love with your musical idols in a way that — well, one can straightforwardly speak about the erotics of that, but nobody speaks about that with children, even though children have their own version of it. I mean, it's different to be Mick Jagger than to be Raffi, but there's still some kind of connection you have on that level. It's awkward to speak about, 'cause it's children, but do you feel in some way that the love or whatever children have for you is on a continuum with the kind of attachment a more grown-up person has to their musical stars? You know, those sorts of romantic connections?"
Raffi grew quiet. "It's not possible to answer your question, really. People are entitled to how they feel about anybody's music."
"Have you been asked this kind of question before?"
"No. No, I haven't. No. It doesn't serve any purpose."
By the early 1980s, Raffi had become a children's icon, and the fame was having its effect. "It was both a carefree time and a heady experience." At the Vancouver Children's Festival, he was so pursued by people while walking the grounds that "the festival organizer gave me a two-piece yellow rain suit for camouflage." His 16-year marriage was starting to suffer, and his perfectionism was getting out of hand. He writes in his book about working with his wife and their collaborators on the albums, "being upset if the three of them were having too good a time." Returning from tour, he would regale her with road tales and "wasn't able to appreciate her own, very real local journeys." Eventually, Deb began touring with him. They renovated their house, "living up to an affluent dream. When you work hard to achieve success, you tell yourself that you deserve it all. I got to taste the power that comes with money and privilege."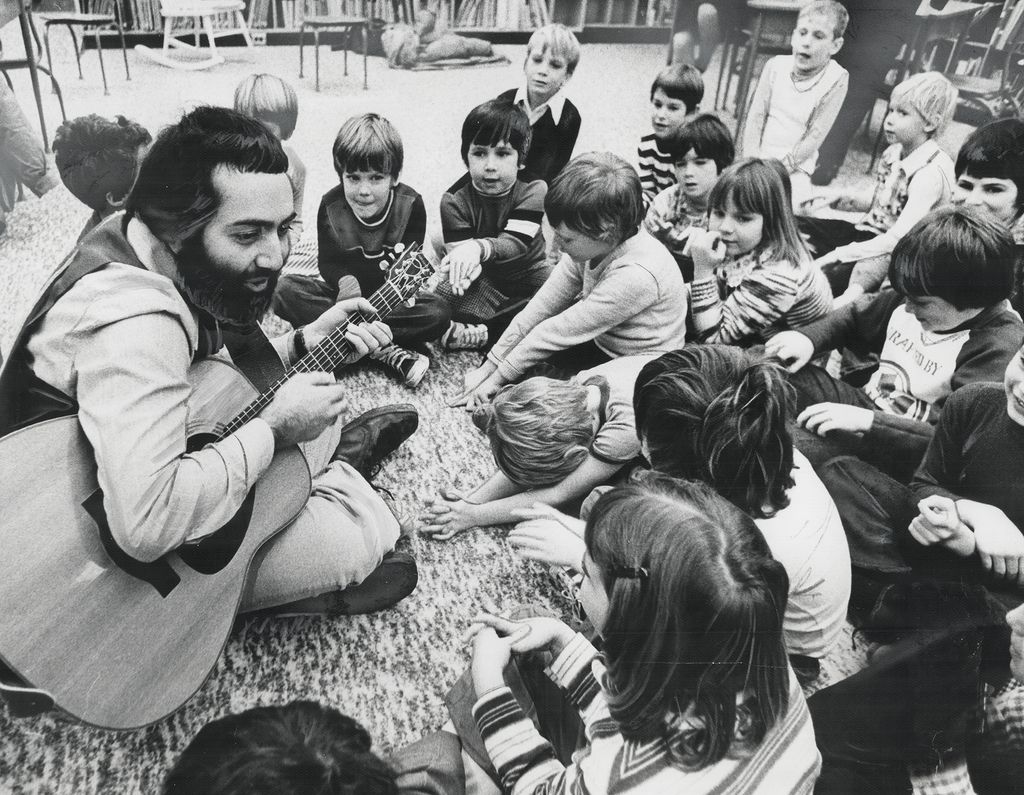 Yet by the mid-'80s, he felt flat: "The light that shone on my professional work didn't filter down to the inner spaces of my being." In 1988, tired of "many seasons on the road," he took a year's hiatus. "I had a need to stay home and watch the leaves turn color in the fall, to feel the rhythm of shortening days fading into winter, and most of all … I needed a time of not knowing what came next, a time to hear my inner voice again."
Finally, after much therapy and soul-searching, he left his marriage (Deb continued to work with the label for a while before leaving it) and moved to Vancouver. Dating left him feeling "quite exposed. Raffi, the smiling children's entertainer, wasn't supposed to be depressed, or angry, or lonely, sitting in a restaurant by himself, pining for company." He had attended a lecture in Toronto on the state of the Amazon rainforest and began worrying about the environment, recording an album aimed at an older audience, Evergreen Everblue. Released in 1990, it was a commercial flop, with didactic lyrics:
Temperatures are rising, arctic ice is melting, polar bears are scrambling,




The heat is all around, we've got to cool it down, cool it, cool it down,




Appealing to the masses, to cut our greenhouse gases down









Radio stations wouldn't play it. "It seemed that my name was just too synonymous with little kids to be hip enough for radio," he wrote. While his publicist begged him to sing "Shake My Sillies Out" on his 60-city North American "comeback tour" in 1992, he wasn't ready. "I was quite a changed man from the person I had been a few years ago, and the show reflected that change. After [singing "Baby Beluga"], I briefly talked about the belugas' plight in the St. Lawrence River." Reviewing one of these shows, Variety said, "While there's no doubt that Raffi's heart is in the right place, he would do well to temper his environmental activism during performances." A Washington Post article was more withering: "The man so beloved by children will no longer play for children … the singer who became famous and wealthy thanks to the consumption-crazed baby boom generation now preaches against acquisition." The article suggested Raffi was undergoing "a midlife crisis."
Raffi denied that his environmental activities indicated ambivalence about his role as a children's entertainer. "It was just part of my evolution. I had done so much [singing for children] already. Some time away was needed for developing my child-honoring philosophy, and sharing that with the world. All that I do comes from a love of life, and the purpose of respecting earth and child."
When I asked about his press from those days, much of which betrays a derision more appropriate for a father who's left his family to join a nudist colony than for a children's entertainer writing environmental songs, Raffi said he didn't get it either. "Some of what they said was, 'Why couldn't you make the environmental album for children?' Well, I said, it's not their job to clean up the mess that adults made. I mean, my constituency — the average age was 3 and a half."
This year, Raffi returns to the stage to promote two albums for children: Love Bug, released in 2014 after a decadelong dry spell, and Owl Singalong. He spent most of the last ten years on advocacy, founding the Centre for Child Honouring on Salt Spring Island, British Columbia, where he lives. He published the anthology Child Honouring, with a foreword by the Dalai Lama, and wrote a book for parents about social media called Lightweb Darkweb. He sang at Kyoto, gave TED Talks, dined with Mikhail Gorbachev, and sang with a children's choir for Ted Turner and Yoko Ono. He received the Order of Canada (the second-highest civilian award in the country), the United Nations' Earth Achievement Award, and the Diamond Jubilee Medal from the Queen.
He took to Twitter. Alongside his more quotidian observations — "a little Chopin. good for what ails one. good for the soul." — he is one of the most active political tweeters in Canada. He spends more time following politics than "tracking the careers of other children's musicians," and sees his duty to Canada as following the example of his parents. When he met the new Canadian prime minister, Justin Trudeau, back in 2009, Trudeau said, "I've looked forward to meeting you all my life!" He said he knew most of Raffi's songs by heart. When he was elected last fall, Raffi said, "I'm going, 'Oh my God, it's our first Beluga grad prime minister!'"
When I asked him why he was returning to children's music now, he said, "Why not? I just wanted to do it. I said to myself, 'Love needs to express itself at every age.' That's why people keep writing new poems, new films."
His newest records will please old-guard Raffi fans. Many of the songs are composed by him. They are winning and lightly absurd; in "Doggone Woods," "All the trees, they leave their mark / Each with a different bark"; and of writing the sweetly eerie "Love Bug,"he told me, "Where does love come from? Come on, this is the biggest mystery of all. There's no laboratory where you can find it. It hasn't been proven to exist scientifically. So, hello! I said to myself, 'Everyone's got a love bug deep inside. It's where the hugs come from.' It made total sense!"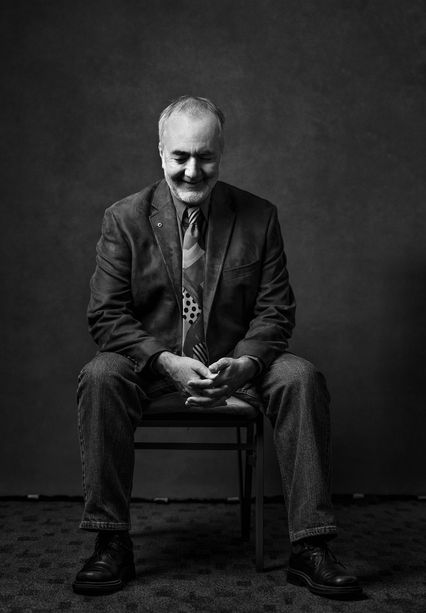 I asked whether this moment felt like a second flowering, and in a self-mocking way, he first puffed out his chest and agreed it did. "A resurgence! Can we call it a resurgence? Yeah, it feels like it. I feel like I have a lot of life energy, a lot of dynamic energy to express, whether it's about my love of life, my love of children, my love of music, whatever. I told a friend that I'd like to make ten more albums by the time I'm 80. Because life is precious now, when you're in your late 60s. You feel that you want to make the most of your years."
Near the end of lunch, we talked about the fact that Raffi never had children — he and Deb never had the urge to. So he was reluctant to give parenting advice, but he did say that parents need to know that "tech can wait. Because with children, their rights are their needs, and their needs are their rights. And that's profound. I learned email at 50. I learned to tweet at 62. So if you're a 3-year-old and you have unrestricted access to screens, I shake my head because the light speed at which things happen in shiny tech counters the experience of real life for a 3-year-old who's only had two summers. I'm all for the imprinting of the real world in slow time."
I said that many children's entertainers and writers (Dr. Seuss, Maurice Sendak, Tove Jansson, Beatrix Potter) weren't parents. I wondered if it was because children prefer entertainers who aren't speaking to them from the position of a parent, or if it's because many adults want some sort of connection with children, so they might take this route if they don't have kids of their own. Or if, as the (childless) writer Maile Meloy wrote in the Times, "There's a Rubicon you cross when you become a parent. Your emotional viewpoint shifts, and you start identifying with the parents in stories, rather than with the children," so those without children more naturally write to or from the child's point of view.
Raffi had no idea, but did say, "The albums became my children." He didn't miss not having children because "my devotion and my love always found an outlet, or a focus."
"So the devotion an artist has toward his work, you feel there's a corollary between that and the devotion a parent has toward the act of raising children?"
"Yes! I see those moments where parents are stretched so thin, and they have this inner resolve, and they just take a deep breath and they get on with it, you know? So when I'm struggling to get a final mix just right, I just take a deep breath and remind myself, This is what you love, Raffi, go at it one more time, just finish the work."
When I said I probably didn't want kids, he said, "It's about knowing yourself and being okay with who you are, right? In [the Child Honouring] covenant, there's a line about, 'Children are here to learn their own song,' which means to know who you are and live that way. And I think that's the greatest gift we can give, not only to ourselves but to each other, because you want to know that the person you met is real. And I want the same from you. I don't want a performance from you, Sheila. I want to know who this person is, who smiles this way, who laughs this way, who has these interesting thoughts."
During lunch, Raffi made me feel reassured and understood — and that somehow we were alike. I felt, If we are alike and Raffi is okay, then I am okay, too. When I asked him about his failures and regrets, he said, "You're going to let yourself down at some point, you're going to let somebody else down at some point. We're not perfect creatures. Far from it. That's what our humanity's all about. I think failure — I mean, I don't shun the word. Some things you're just not going to succeed at, and if you're okay with failure, you'll say, 'Ah, you know what? That just didn't work. I wonder if I was going at it wrong. Let's try it another way.' To gloss over everything you did as glorious — no, maybe it wasn't, you know? Just be real with it. We are these frail human beings doing the best that we can, and sometimes we're tested, and sometimes we rise to the challenge, and sometimes we don't rise so well."
In the half-hour between our lunch and the photo shoot that was scheduled for Raffi, he went to his hotel room to lie down. I checked my phone. There were texts from a friend whose infant had died in day care earlier in the year, who was planning a march in front of the White House to try to improve American family-leave policies. He mentioned he was going to be making a poster and was trying to think of a slogan and wanted my thoughts. When I saw a refreshed Raffi approach me in the hotel hallway, I put away my phone.
As we walked toward the conference room where the shoot was happening, I told him what happened to my friend's child. He stopped walking, and a look of sorrow came over his face. He said he wanted to come to the march, and he would help think of a slogan. "It has to be something that can't be co-opted by the anti-abortion movement," he said. Then we went into the room where the photographer had set up.
Raffi seemed tense under the lights and said, "I'm going to joke around a little, but just to make myself happy." After the young photographer had been shooting for a while, he let Raffi see the images on his computer. "I think it looks too severe when it's too close-up with a serious expression," Raffi said. "And when I say 'severe' I mean, I'm a children's entertainer. I think with a smile it's even better."
When the shoot was over, the photographer put his hand over his heart and said, "It's an honor to photograph you."
For his afternoon concert at Toronto's elegant Roy Thomson Hall, I took my uncle and aunt and their kids. There would be two concerts that afternoon. The 2,600-seat venue was mostly full (though it was hard to tell, since most of the seats were occupied by 2-year-olds). He opened with "The More We Get Together," a song about everyone there being friends, which created a kind of magical feeling within the audience. All sang along, and children soon began dancing in the aisles. At one point, in the middle of the concert, he said that we had been such good participants that now he was going to sing a song for us. It was sensitive of him to let the children have a break. Everyone quieted down while he sang "Thanks a Lot," a secular prayer of thanks for "the sun in the sky" and "the clouds so high."
My boy cousin, who is 2, fell asleep in his mother's lap, which she said was a great testament to Raffi — normally he can't relax, and Raffi had soothed him. We took my girl cousin, who is 4, backstage to meet him. After we said had good-bye and the next people in line approached him, she rushed back and stood square in front of him and said, "I love you, Raffi."
She had only begun listening to his songs the day before, but her avowal of love was so sincere. Half an hour earlier, right after the concert finished, I put the green wristband on her — the wristband that would allow us into the meet-and-greet. She looked at it for a moment, then held her arm up to her father and said, "Daddy, I want to keep this on forever and ever and ever. This remembers me of going to hear."
While writing this piece, I kept returning to something Raffi wrote in his autobiography: "I still remember the day I figured out that all the love songs on the radio were about men and women getting together, getting married and such. It was like being let in on a big secret, but one that wasn't a secret at all. I felt slightly dizzy, as though Bloor Street tilted a little, when it sunk in that this love stuff was mostly what grown-ups were up to."
"This love stuff" is what many of Raffi's songs are about. It's what his youngest listeners pick up on in his voice and manner, and what his fans feel for him even up to the age they're parents themselves. One night, I listened to "All I Really Need" on YouTube, sung first by Raffi, then by a series of kindergarten classes:
All I really need is a song in my heart




Food in my belly




And love in my family
To my shock, I found myself crying in a way I never do. The music tunneled through decades of sadness and hope in me, drawing it all together and presenting it before me in a way that was compassionate and true. My question about Raffi having sex with his fans left me soon after that night. And in the weeks following, I realized how grateful I was to him. Deeply grateful. Just as in my teen years and adulthood, the work of great artists has accompanied me and helped me grow, and enriched the world in so many ways, it was now clear to me that my early childhood, too, had been accompanied by such an artist, one as exacting and sincere and unique as any of them. That was why he had mattered to me — and to so many others — even in the years before the word artist could have meant anything.