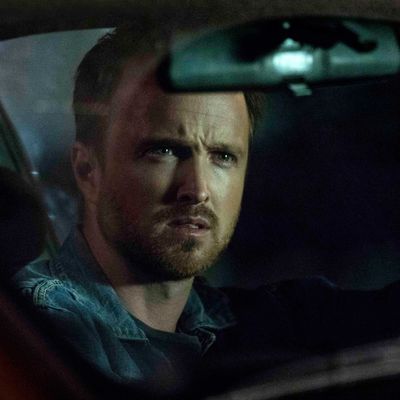 What have you gotten yourself into, Aaron Paul?
Photo: Greg Lewis/Hulu
Aaron Paul's latest TV project is as Eddie Lane, a man suffering a crisis of faith who converted to Meyerism in The Path on Hulu. The rest of the cast includes Michelle Monaghan as his wife, Sarah Lane, Kyle Allen as his son Hawk, Rockmond Dunbar as Detective Abe Gaines, Sarah Jones as Alison Kemp, with Hannibal's Hugh Dancy as Cal Roberts, the unofficial leader of the Meyerist movement. It's like it was just yesterday that Aaron Paul was tooling around his Toyota Tercel after having fallen under the spell of another charismatic genius in the form of Walter White! Ah, good times. Here's a first look at The Path, which premieres March 30.