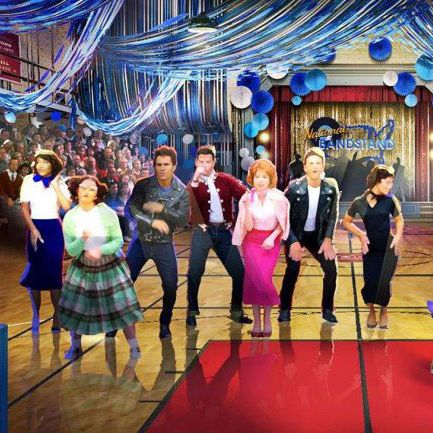 Production designer David Korins's rendering of studio audience placement for the dance-off in Grease: Live.
Photo: David Kronis/FOX
Fox's Grease: Live will be the first of the recent live-television musical events to be staged in front of a studio audience. But that's not all! Grease: Live will incorporate the audience, who will be seen on camera (though not in costume) handling props or delivering lines. Sure, there will be a moment when you're watching at home, thinking, Did they have Hollister hoodies in the doo-woppy '50s? but we gotta assume it will be more fun to watch a musical live when after a joke you hear laughter instead of an awkward silence. In fact, not to brag, but we suggested this, like, forever ago as something that would have made NBC's The Wiz Live! even stronger. Like the old saying goes, musicals and audiences go together like rama lama lama ka dinga da dinga dong. Also, this version has a couple other things the original didn't: Vanessa Hudgens and Carly Rae Jepsen. Sounds hydromatic. Ultramatic.