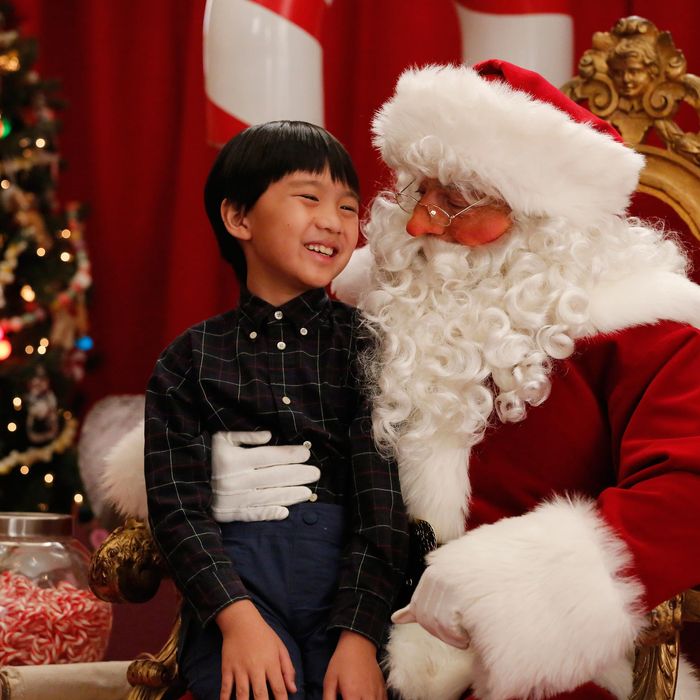 Ian Chen as Evan Huang.
Photo: Vivian Zink/ABC
Every parent lies to their children in infinitesimal ways, but no lie is more ridiculous than Santa Claus. When I was little and refused to eat my vegetables, my dad would pick up the phone and "call the North Pole," speaking at length to the dial tone about how I wasn't eating my brussels sprouts. I discovered soon thereafter that my dad was responsible for the presents under the tree. Any illusions I held about "magic," real or imagined, were shattered.
This is life. The Tooth Fairy is fake. The Easter Bunny is actually a tired parent shoving jellybeans and fake grass into a plastic basket, which gets left on the coffee table next to the remote control. You learn these things as you grow up — but if you're a sensitive child like Evan "Precious Angel" Huang, your mom will do everything to protect you from the harsh truth, even if it means bending those truths to make them work.
The Huangs love Christmas, which is unsurprising because I've never seen a television family that actively despises the Yuletide season. Jessica's Christmas village, Jessica Town, is her pride and joy, and it's marred only by two things: the absence of a bakery and the presence of Santa. Because Jessica Huang is never satisfied and only wants good role models for her children, she decides that this is the year to disrupt Santa. If we're really being honest, Santa is kind of gross — he's an old man who loves children and knows how to silently invade homes. He's also terrible at management, never went to college, and in general, lacks the ambition you'd want to see in a mogul/joy entrepreneur.
If your kids are going to believe in magic, that magic might as well be aspirational. Jessica's Santa — or the version she sells to Evan, at least — is an aeronautical engineer who graduated Princeton, never drank beer, and didn't mess around with girls. That sleigh? It stays aloft thanks to his deep and wide-ranging knowledge of physics. If this isn't the version of Santa you believe in, how will you ever achieve success?
This story works for Evan, but less so for the Cattleman's Ranch Santa. Mitch is preparing to become Saint Nick, but Honey's husband Marvin — an older white man with an advanced degree who enjoys children sitting in his lap — beats him to the punch. After Marv studies up on Evan's deep relationships to Santa and physics, he manages to convince Evan that he's the real deal … until Mitch crashes the party and it all goes to hell.
The web of lies grows even thicker when Evan, that smart cookie, wonders why Santa is portrayed by white dudes in the mall. You see, Santa must be Chinese. It checks out: He's obsessed with red, he's small enough to fit down a chimney, and all the toys say "Made in China" on the bottom. Really, the pieces are all there. This knowledge, however, is less than welcome at Evan's elementary school pan-cultural winter celebration, a politically correct event that caters to all possible holiday sensitivities. When the parents and children of Orlando meet Panny, a grey blob that looks like the result of a one-night-stand between a gumdrop and an anvil, Evan stands in his truth. Naturally, that truth causes confusion, anger, and upset feelings all around.
Here's the twist: The Santa you know and love is merely an employee of Lao Ban Santa, Jessica's horrifying and hilarious character that looks like a sexy Confucius in a Mrs. Claus outfit, a prosthetic nose, two very big moles, and long mole hairs that flow down to her waist, for luck. Sounding like a combination of my mother and Mickey Rooney's Mr. Yunioshi in Breakfast at Tiffany's, Lao Ban Santa commands a fleet of white men to do her bidding, is also a notary, and also drives a leased LeBaron. ("Better for taxes!") She's the wholesaler. Santa Claus is her middleman, who takes the presents that she hides on Christmas Eve and simply moves them from the hall closet to their rightful place under the tree. Lao Ban Santa for president, treasurer, and secretary of State, please.
Like a leprechaun, Evan learns, Lao Ban Santa must remain a secret. She's a special specter who only reveals herself to those with scientific minds who also believe in magic. The jig, mercifully, is not up. Shout out to Honey's crackerjack prosthetic skills, learned during her time with a touring production of Cats.
Evan's childlike wonder is safe, but the other Huang brothers are still muddling along, trying to find the perfect gift for their mom. We know Emery loves a handmade gift, such as the chocolate bust of his father and the gift he gave Grandma last year: "Pearl of God", a historical novel based on her life. (She uses it to make her orange bowl look fuller.) Eddie, on the other hand, prefers inaction. Let it slide, throw some junk together the night before Christmas, and you're covered.
This year, Emery makes a handcrafted replica of the bakery missing from Jessica Land. Though thoughtful, it's temporarily sidelined by Honey's gift: the actual bakery she found in her attic, minus the cocaine she found from Marv's previous marriage. Eddie, in his infinite kindness, writes the lyrics to Tupac's "Dear Mama" on a piece of loose-leaf, convinces his brother that it's a poem he wrote, and lets him dutifully transcribe it with a calligraphy brush on a giant scroll. Emery realizes that this is fake, and after seeing Honey's gift, sets his aside for a pair of film-canister earrings — the best he could do on such short notice. But after Grandma's Nerf boomerang breaks the bakery on Christmas morning, Emery wins! Jessica Land is complete, the entire family is happy, and your friendly recapper, a lifelong Grinch, maybe shed one tiny tear.
Authenticity Index:
+a lifetime's supply of dim sum for Jessica making zongzi for Santa instead of milk and cookies.
+whatever is in my savings account for the clear and incontrovertible evidence that Santa is actually probably Chinese. The signs were there all along. How could I have been so blind?
+100 tiny egg-custard tarts for Lao Ban Santa, but mostly for keeping it about those moles and their long, insidious hairs.