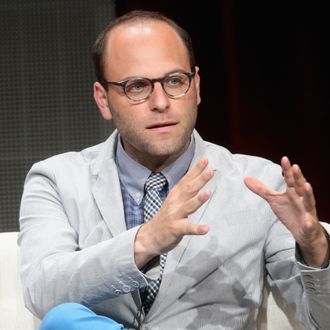 The house is just full of angst now.
Photo: Frederick M. Brown/Getty Images
BoJack Horseman is one of Netflix's best TV shows, and one of TV's best investigations into what an obsession with television can do to a person. So it's not a surprise that creator Raphael Bob-Waksberg, a student of 1980s and 1990s sitcoms — many of which formed the model for Horsin' Around, the series BoJack's hero formerly starred in — would have an interest in Netflix's Full House remake, Fuller House. And in an interview with Indiewire, Bob-Waksberg revealed that he even pitched a dark, kind of brilliant guest episode of the show to the Netflix execs (which, of course, they did not want).
Fuller House will focus on D.J., who is now a widow and raising three male kids with Stephanie and Kimmy's help. To Bob-Waksberg, this sounded like someone living with a past that's hard to shake. "When she was young," he said of the premise. "She had this traumatic event where her mother died and now, can you imagine that you finally get over it and you find a husband who will love you and support the kids, then he dies too? Can you imagine how traumatic that would be?" And this is where the ideas started flowing:
So my episode was going to be all about her feeling like she couldn't tell her kids that she loved them because she was afraid that anyone she loved would die or get taken from her because she was cursed. And the guy I was talking to was like, "Yeah, I don't think they're going to make that episode." [laughs] And I was like, "No, no, no. It would still be like an episode of 'Full House' — fun, full of jokes. And then like, Jesse would come up to her and say, 'Deej, Deej, Deej, you don't have to worry about people dying because you love them — because we all die. Your kids are going to die whether you love them or not. You might as well love them.'" 
"And that was going to be my heartwarming ending," Bob-Waksberg told Indiewire. "They did not love that." 
To be fair, Fuller House already plans to explain away the Olsen twins' absence with a pretty sad plot point about Michelle moving away to New York, so maybe the show doesn't need to go even darker. Though it will be hard to forget Bob-Waksberg's reading of Fuller House's premise once the series airs. Heck, it's hard not to think about the sadness of the whole Full House universe in general. Maybe Full House was about the challenge of making silly jokes in the face of certain death all along, and we were all too invested in John Stamos's jawline to notice.