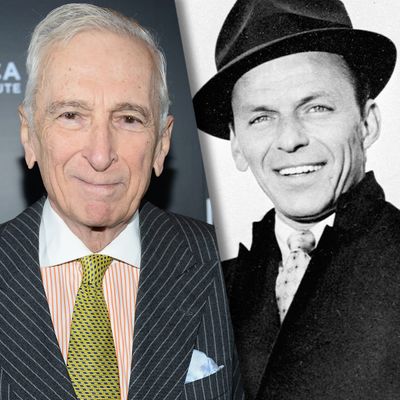 Owing to time and (lack of) effort, my intention to take notes on last night's Gay Talese event at the Strand on a series of tailor's shirt boards — the New Journalism pioneer's preferred observation medium while on assignment — but alas, I stuck with my iPhone's notebook. It was hard not to wonder, in those instances when Talese seemed to be looking straight at me (at one point or another, he seemed to be looking straight at everyone in the audience), whether I appeared to be playing video games or texting or whatever.
Looking straight at people, of course, is what Talese does — from the sidelines, in the case of his most celebrated piece, "Frank Sinatra Has a Cold," which he reported in 1965 and Esquire ran in April 1966. Last night's soirée — complete with a spread of fruit, cheese, bread, and white wine as handsome as the son-of-a-tailor author's impeccable outfits — was a celebration of art-book publisher Taschen's brand-new coffee-table edition of the story. It retails for $200. Perhaps we'll soon celebrate its publication as the last time a living journalist earned $200 for a piece.
Gay Talese is an 83-year-old man who appears at least 20 years younger. Partly it's the dress sense: He entered the Rare Book Room in a dark blue suit with a robin's-egg blue kerchief, white-and-red vertical-striped shirt, and a tie, scarf, and rakishly angled hat, all yellow, removing the hat and scarf before getting on Strand's big comfy chair next to interviewer David Brancaccio from NPR's "Marketplace." Talese made sport of his age several times. Early, thanking the Strand, he explained: "I was given a limousine the size of a yacht," adding that he "slept half of" the hour-long ride to the bookstore.
Peering out, Talese noted, "If there were older people in this room — and I see none …" He exaggerated, but not by much. Talese generally, and "Frank Sinatra Has a Cold" in particular, has been singled out — Esquire, more than once, has called it the greatest story in the magazine's history, while the New York Times named it "a canonical archetype of the … New Journalism" — and passed down and taught to J school classes so much in the 50 years since its publication that it's taken on an august reputation quite apart from its author, even if, as Talese said, it was taken at the time as just another piece.
In short, Taschen's buffed-up, blown-out reprint — complete with Talese's own storyboards, original manuscripts, and related correspondence — is the equivalent of, to choose another December-released jumbo reissue, Rhino's new six-CD boxed set of outtakes, alternates, live versions, and 5.1 surround mix (I don't know what that means either) of Fleetwood Mac's Tusk. If you can beef up a classic album with all kinds of gewgaws, why can't you do the same with a classic piece of writing? It's the logical next step, too, from Taschen's extensive trade in music-related books, such as Rock Covers and Funk & Soul Covers. At least to some degree, that is: "Frank Sinatra Has a Cold" is limited to five thousand copies signed by Talese.
If you've read a few interviews with Talese — and it was clear that everyone in the room had — not a lot of what he had to say was news, for much the same reason you don't attend "Fleetwood Mac Presents an Evening of Tusk" to hear them play "Little Lies." Besides, the stories you've read elsewhere — from Talese "learn[ing] about ordinary life" as the son of shopkeepers, about his awe at his co-workers at the New York Times (in particular drama critic Brooks Atkinson, whose handwriting was so neat, and whose first drafts were so spotless, that the paper would set type from his scribbled notes), about his his long-standing journalistic credo ("The art of hanging out is what it's all about"), and about Harold Hayes, Esquire's fearless leader in its primo years, sending Talese to L.A. for the Sinatra interview with the words, "It'll be easy." He even brought out some of the index-card-size shirt boards he uses for note-taking. You may have known the words, but there's nothing like being in the room with the guy who said them first, and still says them like they're new.
He added a few things, too, sometimes via a small unused detail or simple turn of phrase, like the "courtly indiscretion" of Arthur Ochs-Sulzberger Sr., the Times' publisher when Talese was there, as he eyeballed a young female employee across the room. When Sinatra confronted the young screenwriter and later science-fiction giant Harlan Ellison in a poolroom — the scene at the heart of "Has a Cold" — he actually said the Ellison-penned movie The Oscar was "a piece of shit," not "a piece of crap," as he rendered it in Esquire. Neither Sinatra nor anyone from his camp ever responded to the feature, Talese said. Nor did he ever actually speak with Frank: "If he'd said, 'Let's get some pasta together,' I wouldn't know what to ask him."
Brancaccio had a few questions, though it seemed like fewer than he intended to ask: For all his stay-in-the-background mien, Talese is a yakker. He knows it, too; several times Talese put his hand on the host's hand and wrist, as if to tell him, Don't worry, I'm not going off the rails. At one point Brancaccio subtly began to prompt Talese, who responded, "I'm sorry I'm holding you up." Not that Talese was above interrupting himself; as he ruminated over the story's history, he righted his tone by noting, "There's a $200 book I'm supposed to be trying to sell."
When the evening finished, a woman sitting behind me tapped my shoulder. She'd tried to get a photo of Gay and his shirt boards, without luck, but noticed I'd gotten one. Could I text it to her? I could. Got that, Taschen? Call anytime.