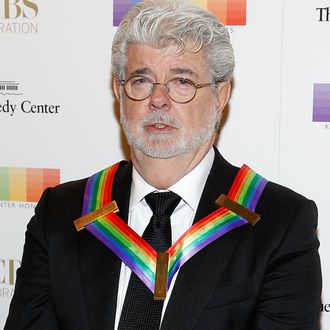 George Lucas.
Photo: Paul Morigi/WireImages
Lucasfilm president Kathleen Kennedy recently said that George Lucas, godfather of the Star Wars franchise, saw The Force Awakens and "liked it." Reluctant to take the word of such a seemingly unreliable source at face value, we sought confirmation from the man himself — and, Sunday night, we got it. Sort of.
At the Kennedy Center Honors in Washington on Sunday, where Lucas was being honored for his lifetime achievements in arts and culture, he stopped on the red carpet just long enough to confirm he has indeed seen Episode VII, which was directed by J.J. Abrams and in which Lucas had zero involvement. Cue the John Williams music:
"I think the fans are going to love it," he said. "It's very much the kind of movie they've been looking for."
Record scratch the John Williams music.
In a recent Washington Post profile, Lucas characterized his decision to sell Lucasfilm to Disney and cede control of the Star Wars franchise as the equivalent of a divorce. "I gotta go to the wedding," he said. "My ex will be there, my new wife will be there, but I'm going to have to take a very deep breath and be a good person and sit through it and just enjoy the moment, because it is what it is and it's a conscious decision that I made."
So he didn't say he liked it, exactly. But he did say, "I think the fans are going to love it," which sounds exactly like what you'd expect an ex to say at their former spouse's wedding, after taking a deep breath, between sips of their martini.