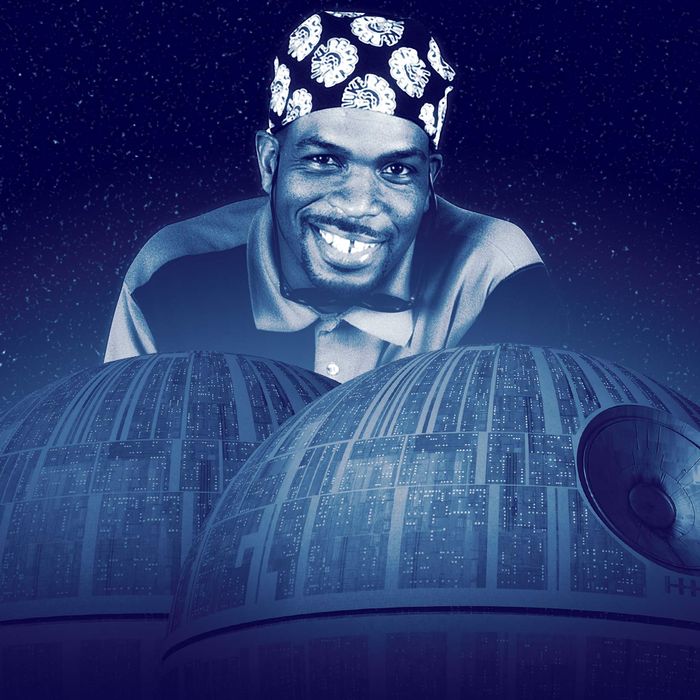 Photo-Illustration: Photo: Al Pereira/Michael Ochs Archives/Getty Images
Luther Campbell wants to be very clear: He will not be found in a theater watching Star Wars: The Force Awakens. The former front man of 2 Live Crew, the raunchy and notorious rap group of the late 1980s and early 1990s, won't even see the franchise's record-breaking seventh installment after its home release. And if his children want to watch it, they have a one-time exemption from him to patronize the black market. "I tell my kids, don't ever buy bootleg," he says, "but if you really want to watch that movie, you can buy it bootleg."
That simmering contempt for Disney's new crown jewel is held over from a different chapter in Campbell's life, a period where his then-stage name too closely resembled one from a galaxy far, far away. The struggle for who could use that name went from the radio to the courts, and now to distant memory, but not for Campbell. "Every time I see a trailer, or an ad, for that movie," he explains, "all I can think is I want that motherfucker George Lucas to give me my money back."
Roughly 30 years ago, Star Wars and 2 Live Crew operated on very different ends of the world's pop-culture spectrum. The original trilogy concluded in 1983 with Return of the Jedi, further cementing the series's place in Hollywood history and capping off a three-film box-office gross of more than $2 billion globally. 2 Live Crew's first single, "Revelation," came out two years later, with the group's debut album The 2 Live Crew Is What We Are arriving the following year, in 1986. Though the album went gold, the band's success was still regional — they remained mostly unknown outside of Florida.
In late 1989, though, 2 Live Crew released their wildly controversial — and best-selling — third album, As Nasty As They Wanna Be. Featuring the song "Me So Horny," the record drew the ire of both the American Family Association and the Broward County Sheriff's Office. Stores were warned to stop selling the album, which was said by authorities to be obscene, prompting 2 Live Crew to file a lawsuit. The obscenity ruling was later overturned; in the meantime, the furor garnered attention and stoked sales.
It was around that time that the orbits of Campbell and Lucas collided. Though he was born Luther, everyone knew Campbell as Luke. "The only people who called me Luther were the government or teachers," says Campbell. "Even my mom called me Luke." When he began DJing clubs and parties throughout the Miami area in the early 1980s, Campbell — then in his twenties — used the name "Luke Skywalker," a handle modeled after New York Knicks star Kenny "Sky" Walker.
Lucas would later claim that his lawyers warned Campbell as early as 1987 to drop the nickname, which was trademarked, but Campbell says he didn't even know there was such a character until one of his lawyers informed him. Still, he didn't see the problem.
"I asked them, 'Will this affect me?' I thought I wasn't doing anything to infringe on their copyright," he claims. "My name is Luke Skywalker and I'm rapping about how I want some pussy. How can anyone say that is infringing on a character in a movie that doesn't feature any rap music?" Even so, Campbell altered his nickname to Luke Skyywalker — a tweak that extended to the label that he founded, which distributed 2 Live Crew's records.
It came as a surprise to him, then, when Lucasfilm filed in the spring of 1990 a $300 million federal lawsuit charging Campbell and his record company with, among other allegations, trademark infringement and unfair competition. "The logo for Luke Skyywalker Records was two legs in jeans walking on a cloud," Campbell says. "If I wanted to rip off Star Wars, don't you think the logo would have had a lightsaber?"
According to legendary entertainment lawyer Bertram Fields, who represented Lucasfilm, it wasn't that simple. As he told the Los Angeles Times in March of 1990:
The trade name is worth hundreds of millions of dollars in licensing and the confusion could be very damaging to the company … the kind of lyrics that are being associated with the name … are the type that many people disapprove of, the kind of lyrics that are completely antithetical to the character of Luke Skywalker, who is supposed to be a clean-cut, moral young man.
"That was hardcore," Campbell says of the lawsuit. "I couldn't deal with George Lucas suing me because I didn't expect it. I could have settled, but then I watched the movie and I decided to fight it because I didn't think I was infringing."
Campbell's legal troubles were compounded when he was arrested and photographed wearing a shirt that featured the Luke Skyywalker logo, which violated a judge's injunction that barred Campbell from continuing to use the name. "I was fighting George Lucas in his own backyard [the lawsuit was filed in California]," sighs Campbell. "Even though Star Wars is so far away from 2 Live Crew and rap music, I decided to take it on the chin."
The pop-culture beef, which consisted of several months of court appearances and public statements, resulted in an out-of-court $300,000 settlement — and Campbell, who was forced to change both his nickname (to Luke) and the name of his record label (to Luke Records), isn't likely to find peace with that.
"I respect the fact that people love the movie," Campbell concedes. "George Lucas made a helluva movie and a brand. People love it. But he took nearly a half a million dollars from me."
There's something else at work, too, a consideration that sci-fi fans will recognize as being almost as difficult to accept as the financial damages. "I like fucking Star Trek," Campbell adds, "and if you are a trekkie, you damn sure don't love Star Wars."