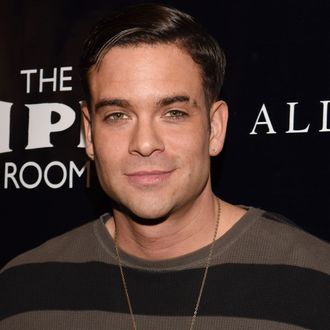 Mark Salling.
Photo: Vivien Killilea/Getty Images
The newsmagazine Crime Watch Daily reports that Mark Salling, best known for his role as Puck on Ryan Murphy's Glee, was arrested by the LAPD on Tuesday for the possession of child pornography. TMZ also reports that the LAPD's Internet Crimes Against Children Task Force obtained a warrant and searched Salling's home in Sunland, California, where they found thousands of images, including those of girls under the age of 10 engaged in sexual acts. The police were apparently tipped off by one of Salling's ex-girlfriends. This isn't the first time that Salling has had criminal problems: In 2013, he paid his ex-girlfriend $2.7 million to settle a sexual-battery lawsuit she had brought against him. According to "Page Six," Salling is out after posting the $20,000 bail set by the Los Angeles County Sheriff's Department.

The director Adi Shankar said that he would cut Salling from his film Gods and Secrets, which is currently in postproduction, from the film if the allegations proved to be true. "I won't feed our growing pitchfork culture," Shankar said in a statement to E! News. "I'm going to wait for all the facts to arrive and if in fact these allegations are true, I will immediately take action which includes removing his scenes from the project."
Salling's first court appearance has been set for January 22, 2016.