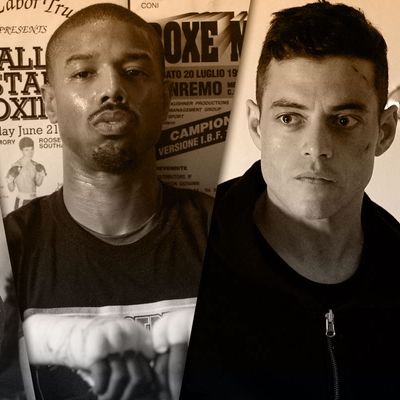 Photo: CW, Warner Brothers, USA
The Hollywood Foreign Press Association announced its nominees for the 2016 Golden Globes, airing January 10, this morning, and like every year, there are some delightful surprises and audacious picks among the more expected awards-season nods. That's the whole thrill of the Globes: It's all the exuberance without as much of the hand-wringing. And while the awards matter to the film industry as part of an elaborate Oscar-prediction system, for TV, they're less important, more adventurous, a chance to honor shows and performers that will in all likelihood never win an Emmy. Still, in both categories, there's always a puzzling choice or two. Or … many.
***
FILM
Brooklyn isn't in the house.
While lead actress Saoirse Ronan scored a nom for Fox Searchlight's moving Irish immigrant drama, Brooklyn, the film's director (John Crowley) and screenwriter (Nick Hornby) sadly did not. This is actually really surprising — and weird — considering the HFPA is often drawn to movies with strong international themes, for better or worse. (Hello, The Tourist.)
Straight Outta Compton and not into the Globes.
One of the few films in the awards race this year that doesn't star all white people, Universal's juggernaut biopic on rap group N.W.A (which has earned $200 million at the box office) didn't break through the seemingly more prestigious fare, despite Universal's massive campaign for the film (have you seen those "For Your Consideration" commercials?). Its failure to woo the HFPA doesn't bode well for its Oscar chances.
Okay, seriously, nothing for Sicario?
Supporting actor Benicio del Toro seemed a lock for a nom as revenge-seeking hit man Alejandro in Denis Villenueve's intense Mexican cartel drama, and yet nothing. Lead actress Emily Blunt, who gives the performance of her career, was also a nonstarter. 
Yo, Rocky is back! Creed, not so much.
Fox's feel-good latecomer Creed delivered a supporting-actor nom for HFPA favorite Sylvester Stallone, but overlooked star Michael B. Jordan and the film itself for best drama. This isn't terribly surprising given the film's late-entry status, but Jordan and director Ryan Coogler would have added a welcome dose of diversity to the proceedings.
Wait, Michael Caine can't even get a nom?
Was there an actor and a role better suited to a Globe nom this year than Caine's endearing 80-something-year-old composer in Searchlight's existential drama Youth? The 12-time Globe nominee and three-time winner was the highlight of this strange little film that speaks to the perils of balancing artistic pursuits with the pressures of selling out.
Sorry, Johnny Depp.
I appreciate the HFPA's restraint in not nominating Black Mass's Johnny Depp for once (see again The Tourist), but I'm still shocked considering he was pretty killer as Whitey Bulger, bizarre contact lenses and all.

*** 
TV
Look at that drama category!
The Golden Globes always cast a wide net, but this is a remarkably wide variety. Game of Thrones is the only Emmy-leaning show on the list, and last year's (unworthy) Globes winner The Affair is missing. Empire has fallen off the buzz train a bit in its second season, but it has a shot here: Shows like Party of Five, The X-Files, Nip/Tuck, and Grey's Anatomy have all won. Narcos, Mr. Robot, and Outlander are all pleasant surprises.
Except … still no love for The Americans.
Nothing! Come on, Golden Globes. It also would have been nice to see Rectify in there somewhere.
It's a big day for Hulu.
Casual, the streaming service's pretty solid dramedy, is nominated for best comedy. It's a decent show, but this seems a bit much.
Actually, it's a big day for all the streaming platforms.
Netflix cleaned up, with Narcos, House of Cards, Orange Is the New Black, Grace and Frankie, Bloodline, and Master of None all earning nods in some form. Amazon had a good showing, too, with Transparent and, more surprisingly, Mozart in the Jungle.
And Starz.
Starz does not get a lot of awards-show love in general, but the Golden Globes are forging their own path: Patrick Stewart is nominated for Blunt Talk (pretty good); Outlander is nominated for best drama, with Caitriona Balfe and Tobias Menzies picking up performance nominations, too; and even the not-good Flesh & Bone notched nominations for best limited series, with star Sarah Hay getting a nod for best actress in a limited series.
Sorry, networks: Starz shows have more nominations than ABC, CBS, Fox, NBC, and the CW. Starz.
That's a goose egg for NBC this year, and CBS managed only one nomination, for Alan Cumming in The Good Wife.
HBO is losing a little ground.
No nominations for The Leftovers, True Detective (ha), Girls, Getting On, or Looking. And the performer nominations for HBO are almost all in the mini-series and movie categories.
Enjoy your one measly nomination, Mad Men.
Jon Hamm wasn't nominated last year, so at least that has been rectified. But this is a show that won Golden Globes for best drama in 2007, 2008, and 2009. (And hasn't won a Globe since.) It was still easily one of the best dramas, and someday we're gonna look back on this era and wonder what Elisabeth Moss would have had to do to win more damn awards.
Okay, but actually enjoy your nominations, newcomers.
One important thing that separates the Globes from the Emmys is how wide open the fields are. Once you're nominated for, or especially if you win, an Emmy, inertia can carry you on through for years to come. The Globes, however, love a newcomer. This year's first-time nominees include: Caitriona Balfe, Eva Green, Taraji P. Henson, Rami Malek, Wagner Moura, Bob Odenkirk, Rachel Bloom, Aziz Ansari, Gael García Bernal, Lady Gaga, Sarah Hay, Mark Rylance, Maura Tierney, Judith Light, Tobias Menzies, Ben Mendelsohn, and Christian Slater. Man, that is quite a freshman class.
Rachel Bloom is the only best-actress-in-a-comedy nominee who hasn't won a Golden Globe before.
She's got some steep competition.

Should the Golden Globes have a reality-TV component?
Could be fun.