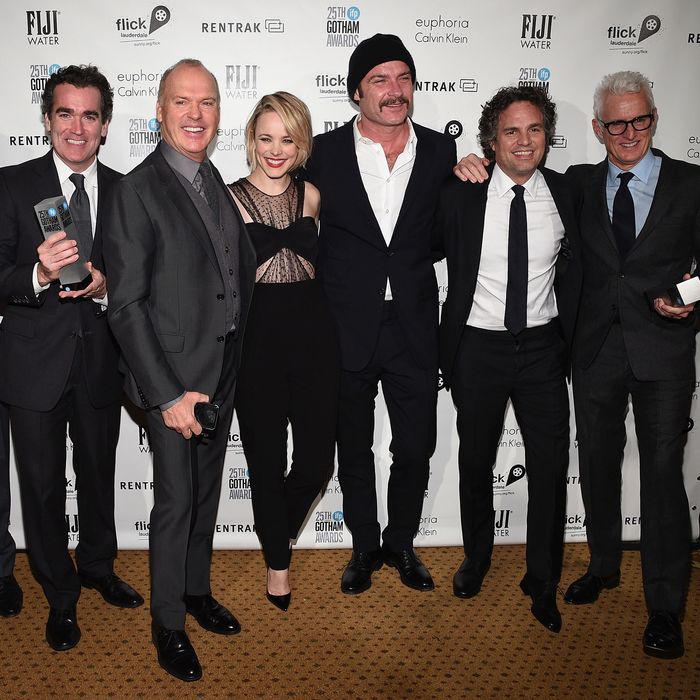 Spotlight: cleaning up the Church, and at awards shows.
Photo: Bryan Bedder/Getty Images
Last night, the 2015–16 Awards Tour hit Gotham: The Independent Gotham Film Awards, hosted by the Independent Film Project, went down for the 25th time, choosing its winners from a field of low-budget American films. While awards season is one long, complicated chain reaction in which every small event impacts the larger narrative, it would be wrong to read too much into the Gotham Awards: They're chosen by a small panel, which means the decisions can be idiosyncratic.
For example: Bel Powley, the young and rising British star of The Diary of a Teenage Girl, beat out Oscar front-runners like Brie Larson and Cate Blanchett for the Best Actress award. As deserving as Powley is of these and any accolades, she can't be considered more than a long, long shot for an Oscar nomination, even with the Gotham win. There's perhaps some perspective to be gained in looking at the Best Actor nominees: Christopher Abbott, Michael Shannon, Kevin Corrigan, Peter Sarsgaard, and winner Paul Dano are all excellent in their respective films, but short of divine intervention, none of them will get nominated for a Best Actor Oscar. (Dano does have an outside shot at Supporting, though.)
But! There is one narrative from last night that's harder to resist overinflating than the others, and that's Spotlight's dominance. Writer-director Tom McCarthy's critically beloved journalism procedural, which tracks the Boston Globe's investigation into child abuse in the Boston Archdiocese of the Catholic Church, won Best Picture, Best Screenplay, and received a special award honoring its ensemble cast, which includes Michael Keaton, Mark Ruffalo, Rachel McAdams, Stanley Tucci, Billy Crudup, Liev Schreiber, John Slattery, and Brian D'Arcy James.
Spotlight has been the closest thing we've had to an Oscar front-runner since our Kyle Buchanan painted it as such at Toronto in September. Even as the other Best Picture hopefuls have been rolled out, it continues to hold that position, with only The Revenant, The Hateful Eight, and Joy still to come. (Critics and industry folk are starting to see these movies, but all reviews remain under embargo.)
Now, last year's eventual Best Picture winner, Birdman, also won at Gotham. Does that mean we should consider the whole shebang locked up and, instead of wondering aloud about Spotlight's chances for the next few months, spend the rest of the winter forcing Leonardo DiCaprio to reveal the increasingly terrible things he had to do while shooting The Revenant? Not exactly. While Spotlight's win at Gotham is confirmation of its high standing in the film community, it does not historically forecast the Oscar winner. In 2013, Inside Llewyn Davis, a New York movie if there ever was one, took the top prize and then, in a gross miscarriage of justice, didn't even get nominated by the Academy. In 2012, Gotham winner Moonrise Kingdom was also shunned; ditto Beginners in 2011, though its co-winner, Tree of Life, did squeak through.
In order to find the last film before Birdman that took both Gotham and the Oscars, you have to go back to 2009, when The Hurt Locker became the lowest-grossing Best Picture winner of all time. Spotlight should top The Hurt Locker's earnings by the end of this weekend, and it remains the favorite for Best Picture. But if its win at Gotham means anything, it's that the love for Spotlight isn't just ceremonial. People dig this movie in a real way — even if, as history has repeatedly shown, that has little bearing on what the Academy ultimately decides.