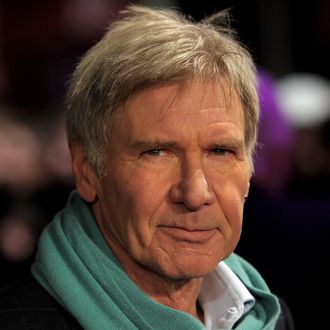 Photo: Ian Gavan/2011 Getty Images
[Warning: Episode VII spoilers follow, so if you haven't seen it yet … seriously, I mean, c'mon.]

The Force Awakens is making a stupid amount of record-breaking money, so its stars must be, too, right? Well, yes, but especially if you are Harrison Ford, according to the Daily Mail. In a report published this weekend, the 73-year-old icon was cited as raking in a hefty eight-figure salary — one roughly 76 times greater than those of Daisy Ridley and John Boyega — for reprising his role as Han Solo.
Variety checked in late Monday, however, with updated flat fees:
Ford: $10 million-$20 million
Mark Hamill, Carrie Fisher: low seven-figure range
Adam Driver, Oscar Isaac: mid-to-high six-figure range
Boyega, Ridley: $100,000-$300,000
Returning actors reportedly received a legacy pay scale that boosted them above the newer talent — Ford is highest because of that special plot-related reason you're suspecting. "Harrison is the key to making this movie work. He's the link between the old generation and the new," a source explained to Mail. "Mark Hamill and Carrie Fisher were good to get, but the film could have lived without them. You couldn't make it without Harrison Ford."
Variety added that Episode VIII participants will likely get to renegotiate their contracts and that the above numbers don't account for back-end bonuses, which activate once the film's worldwide box-office breaks $1 billion. In other words, the non-Ford stars are still making, or will likely soon be making, this kind of money, too. Read more about the paydays here.