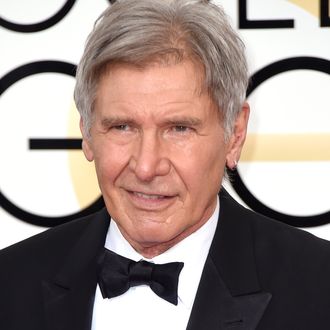 Harrison Ford.
Photo: Frazer Harrison/2015 Getty Images
After four decades, Harrison Ford finally considers himself a Star Wars fan — and it looks like that side of Ford is here to stay. In an interview with Good Morning America, the Han Solo actor revealed he's seen The Force Awakens, and he evidently thinks higher of the new compared to the old. "It was great," he said Tuesday. "It's a wonderful movie; it's got great production values; it's a real, big movie, and I was delighted to see it." For someone who has historically been unafraid to speak his mind about his projects, this either means he's getting paid enough to buy a small island or he's genuinely stoked about Han's return (which he says is more complex and emotionally contextualized).
Ford told People in 1977 he thought the first SW film was "silly but wonderfully made." (He likes calling things wonderful.) In a more recent interview, however, he raved about new helmer J.J. Abrams: Returning as Han "might have felt silly, but it didn't," he said. "It was fun to work with J.J. Abrams, who brought great energy, passion and clear focus to the whole event. So I had a good time." He echoed similar sentiments in his GMA interview, because he's a true Abrams fan. (Abrams, the world is yours — what don't you have?)
You can watch the whole GMA interview, in which Ford also discusses his Star Wars audition and the cryptic future of Indiana Jones, here:
And you'll be able to see what Ford's "wonderful" really means in just over two weeks.