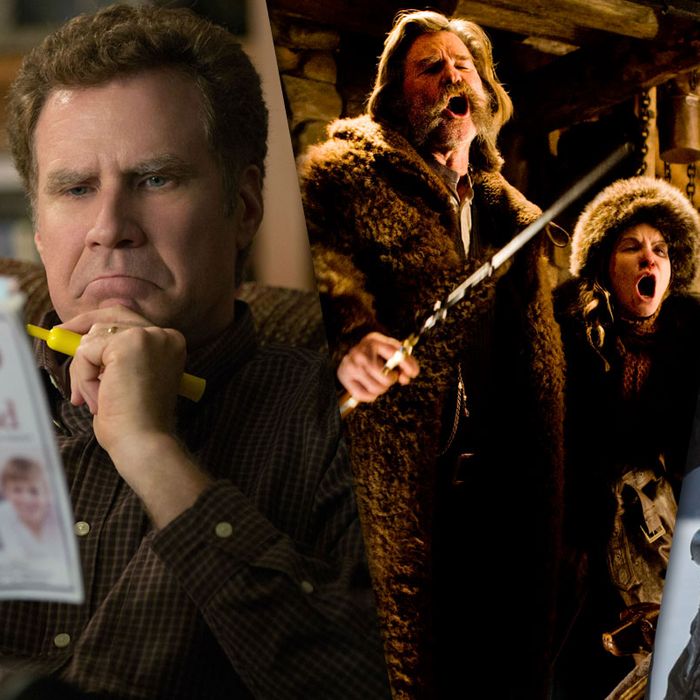 Daddy's Home and The Hateful Eight have reasons to be happy, while The Revenant simply has a long road ahead.
Photo: Paramount Pictures, Weinstein Company, Twentieth Century Fox
Christmas is a wonderful time for both giving and going to the movies, and 2015 bore this out in a big way. With a big boost from Star Wars: The Force Awakens, which continues to bowl over box-office records like BB-8 rolling through a flower garden, this weekend was the second-highest-grossing of all time, behind only last weekend — you know, the one where Star Wars came out. But as noteworthy as The Force Awakens' onslaught has been, there were plenty of other fascinating narratives unfolding in theaters over the last few days.
Tarantino Finds Love in a Hateful Place
The Hateful Eight has had a singular release. First off, it's being billed as "the eighth film by Quentin Tarantino," which, of course, it is. But you don't normally see that kind of tag tacked onto a film's title card, and it speaks to the powerful and eccentric position Tarantino occupies in the film industry. He's a sort of patron auteur, a vanguard against the blockbusterfication of mainstream moviemaking, and so his movies get treated even more as his creations than do the work of other writer-directors.
A major case in point has been the way the Weinstein Company rolled out The Hateful Eight this weekend. In light of Tarantino's decision to shoot the movie in 70mm, a near-dead technology, the Weinsteins essentially revitalized the entire format, gathering enough projectors and equipment to show the film — and I do mean film — in 100 theaters across the country. Compare this to the 11 theaters where Christopher Nolan's Interstellar showed in 70mm last year, and the 16 where Paul Thomas Anderson's The Master showed in 70mm in 2012. Doubling down, Tarantino branded the release a "roadshow," drawing on a term once used to describe the limited bows of event movies, and even issued programs to each moviegoer.
This gamble was rewarded with a $4.5 million take, which, spread across those 100 theaters, meant an astonishing $45,366 per-theater average, according to Box Office Mojo. This would be a solid average for a much more typical limited release, the kind that launches in a handful of theaters in L.A. and New York; for example, it's what The Danish Girl did in four theaters, and it's $8,000 more than what Brooklyn did in five. In terms of blockbusters, it's even with Avengers: Age of Ultron, which opened on 4,276 theaters. But the big difference between Hateful and other releases is that, because of the 70mm restriction and the three-hour run time, it could only be shown a certain number of times per day on a single screen. Had it had the flexibility of a digital release, it would've made a hell of a lot more.
The question, of course, becomes whether Hateful has the mass appeal to go wide; it is, after all, a three-hour-long, dialogue-driven, hard-R Western, and the 70mm appeal only goes so far, particularly once it starts showing in digital projection, which will comprise the vast majority of its wide-release locations. There's reason to be optimistic. Tarantino's last two releases, Inglourious Basterds and Django Unchained, both had no trouble opening wide on their way to becoming global hits, and while both of them are more accessible than Hateful, it's not like they're Marvel movies. If you look at other strong limited-openers, you realize that their numbers aren't near what Hateful's are once they reached even double-digit theaters. Sicario opened to a $66,881 per-theater average and saw that drop to $29,107 when it spread to 59, and Steve Jobs, which still holds the highest per-theater opening of the year, fell to $25,212 when it was in 60. Of course, both Tarantino and the Weinsteins fully expect The Hateful Eight to make more than either Sicario, a modest success, or Jobs, a flop, but with a production budget of only $44 million — less than half Django's — it'll be a major success if it even approaches the take of his last two.
One more point: Tarantino and Paul Thomas Anderson did a Q&A with Deadline's Pete Hammond on Christmas Eve, and both said they firmly believed that 70mm was a draw for audiences beyond just film buffs and obsessives. After this weekend, I'm inclined to agree: $4.5 million is no joke; that's nearly the entire run of Room so far. And a 100-theater opening means that this was to some extent nationwide, not just consolidated on the coasts. (It was also the largest opening in 70 in 20 years.) Audiences' enthusiasm for Tarantino is a matter of financial record, but plenty of people just came out to see what was essentially a technological experiment, and one that didn't always work all that well. Plus, it looks like Nolan will make his next movie in 70 as well. It's the wave of the future, from the past!
Daddy's Home and Sisters Would Make a Weird Full House
Have you seen the teaser for Netflix's reboot of Full House set to the It Follows music? If not, I highly recommend it. It's really creepy.
Anyway. This turned out to be one of the biggest comedy weekends of the year, with Will Ferrell and Mark Wahlberg's Daddy's Home overperforming to the tune of $38.8 million. The moral of the story there is that Will Ferrell + another well-known actor or comedian = money, as it has for a decade now.
But more interesting is the fact that the Tina Fey and Amy Poehler two-hander Sisters, which was left for dead after getting steamrolled by Star Wars last weekend, also showed signs of life. Sisters managed $13.8 million, only a 0.3 percent drop from its opening performance. It's likely that Star Wars and the Christmas weekend were a rising tide that lifts all boats, accounting for most of that second wind; because Sisters only did a B Cinemascore on its first weekend, it's hard to imagine much of it came from word of mouth.
It does, however, call up an interesting parallel that Box Office Mojo pointed out last week. So far, Sisters has played almost identically to how This Is 40 did over its first two weeks in 2012. This Is 40 ended up with a 5.83 multiplier from its opening, meaning that if Sisters continues to unfold in the same way, it could be looking at as much as $75 million domestically. That would be a strong pull for both Fey and Poehler, neither of whom are proven box-office draws, and it would improve upon their first outing together, 2008's Baby Mama.
The Revenant Gets a Nice Start to Its Long Uphill Climb
One thing most films that start limited and then go wide have in common in 2015 is that they don't cost that much to make. Steve Jobs cost $30 million. The Big Short cost $28 million. Sicario cost $30 million. That's about as much as people feel comfortable spending these days on a non-blockbuster, non-franchise movie. Anything above that, and you might as well just go wide right off the bat; it's not like you're getting that high a budget just to play to L.A. and New York.
On the other hand, The Revenant, which took in $474,560 from four theaters this weekend, cost quite a bit more than those movies. How much more? Try $135 million. For Alejandro González Iñárritu's latest, then, the road to profitability will be longer and more complicated. Can a 150-minute-long film that goes significant stretches without dialogue, about a man essentially crawling across the American wilderness, possibly make back $135 million?
We'll soon find out. The Revenant's weekend gross came out to a $118,640 per-theater average, good for the second-best opening by this metric so far this year. Promising, right? Kind of. The best-opening film of the year was Steve Jobs, which sputtered out to just $17 million domestically over the course of its run.
Essentially, what this means is that a strong performance in only four theaters does not indicate nationwide viability. Instead, distributors use a limited release either to drum up excitement for their film or to determine whether it's worth expanding beyond major markets. Later in the year, they can be used as Oscar-qualifying runs, which is what American Sniper did last year.
For The Revenant, American Sniper is pretty much the ideal scenario: It spent three weeks in only four theaters, opening to a $158,364 average, then exploded onto 3,555 screens, eventually grossing $350 million domestically. Other limited releases from the past two years, even the best limited releases from the past two years, don't offer much financial solace: The Imitation Game and Birdman, which had comparable per-theater averages last year, ended up at $90 million and $42 million, and this year, no limited-release film has grossed more than $50 million yet.
Those are scary numbers for a $135 million movie, particularly one as demanding as this. (American Sniper was long, but Chris Kyle never had to sleep inside of a horse.) The Revenant will get its screens — it opens in more than 2,700 theaters on January 8 — but we'll have to wait and see what kind of audience it finds waiting.