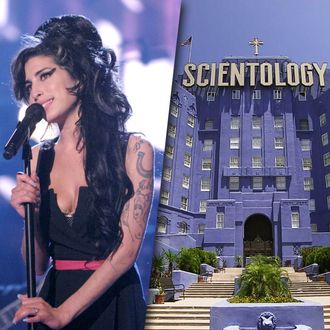 The 2016 Oscar nominations are still more than a month away, but the Academy has already narrowed down its list for one category. The short list for best feature documentary is out, and it doesn't include many surprises: Alex Gibney's Scientology exposé Going Clear, Kirby Dick's campus rape investigation The Hunting Ground, Michael Moore's top-secret latest Where to Invade Next, and Asif Kapadia's Amy Winehouse profile Amy have each made the cut. So have He Named Me Malala, What Happened, Miss Simone?, and We Come As Friends. A few notable exclusions: HBO's Kurt Cobain doc Montage of Heck, the Iris Apfel doc Iris, Ravi and Geeta Patel's Meet the Patels, and Steve Jobs: The Machine. In total, 15 documentaries will compete for five nominations. Here's the full list:
Amy
Best of Enemies
Cartel Land
Going Clear: Scientology and the Prison of Belief
He Named Me Malala
Heart of a Dog
The Hunting Ground
Listen to Me Marlon
The Look of Silence
Meru
3 1/2 Minutes, 10 Bullets
We Come as Friends
What Happened, Miss Simone?
Where to Invade Next
Winter on Fire: Ukraine's Fight for Freedom
The nominations will be announced on January 14.