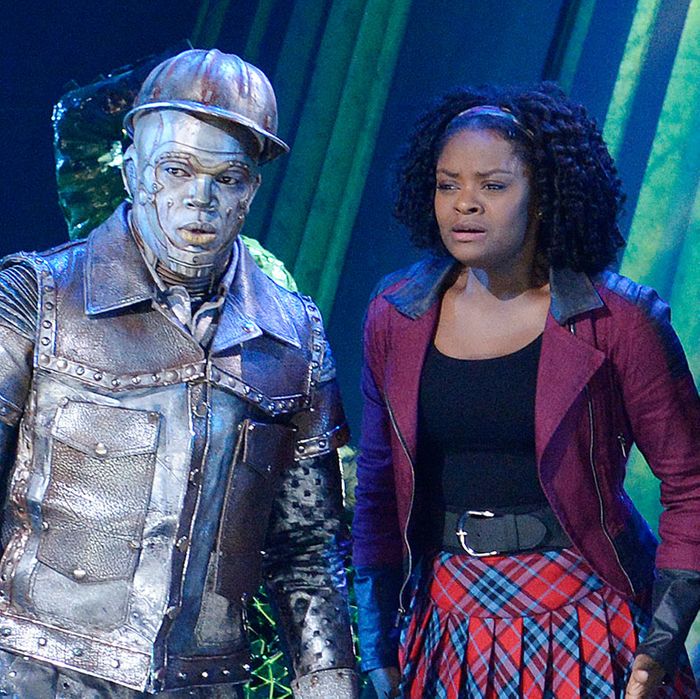 From left: Ne-Yo as Tin-Man, Shanice Williams as Dorothy, David Alan Grier as Lion.
Photo: Virginia Sherwood/NBC
After last year's curiosity, NBC rebounded with a live event that was hard to find fault with — we were too busy feeling every damn moment of the The Wiz. Shanice Williams's debut! Mary J.'s contouring! The sweetest cast ever? Call them lows if you like, but our critiques here amount to what we wanted to see more of, not less. Take us even higher, Wiz.
Highs

Shanice Williams had a stellar debut.
While the cast was stacked with mind-boggling talent, the glue that held everything together was Dorothy. Not only does she have to play the relatable character in a strange and wild world, she had to be the one who takes us on an emotional journey. All of it culminated in a stunning final solo where she brought it on home. And may we remind you, she is only 19 years old.
The writing.
Harvey Fierstein adapted William F. Brown's 1975 classic for last night's live-television production,and with lines like "Home is something that's got to be earned," "Guilty of murder in the house degree," and "You don't even got game enough to be wicked," he kept the spirit and grace of the original while making it amusing for modern audiences.
Feminista Jones's #jonesingforthewiz tweets.
One of the best parts of this show was it felt like Twitter was suddenly a nice place to be. But the standout was Feminista Jones, who, like your best college professor, put the show in context of the black arts movement in the 1970s. (Read all her tweets here.)
Uzo Aduba dazzled as Glinda the Good Witch.
While most audience members know Uzo Aduba as Suzanne Warren from Orange Is the New Black, she's a theater kid at heart. (Before nabbing her Emmy-winning role, she was in a Broadway production of Godspell.) Aduba didn't show up till the very end of The Wiz, but when she did, she completely commanded the stage. And when it came to her solo, "Believe in Yourself," she sang with so much heart, it almost felt like there was no TV screen separating us from her.

The hair-and-makeup team.
The hair-and-makeup game was on point here, with special shout-outs to Mary J. Blige's contouring and Queen Latifah's Wiz wig. Details were key: With cameras that zoomed in and out on our leads, metallic lipshades looked great from afar and up close. There was even a hint of silver on the Tin Man's teeth — nice touch, team makeup!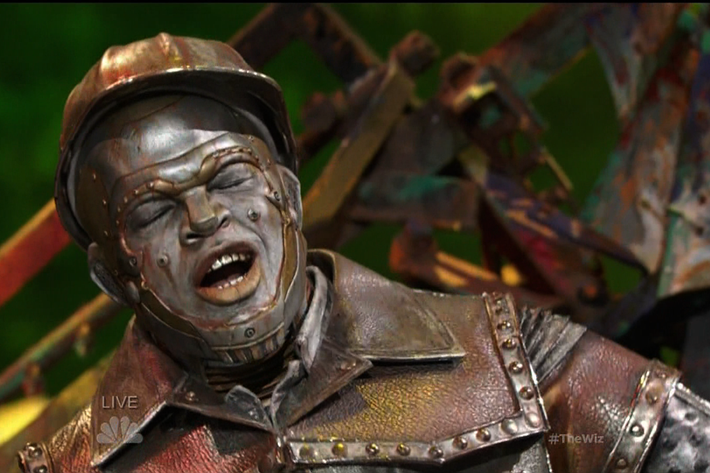 Incorporating Cirque du Soleil dancers.
Having Cirque du Soleil act as a co-producer was a masterful decision, and their influences could be felt throughout the production design, with their soaring sets and psychedelic, candy-colored costumes. You felt it especially during the dance numbers where the poppy flowers waxed creepy and sexy and the Emerald City crowd was channeling Andy Warhol's Factory and Harlem ball culture.
Fatima Robinson's choreography.
Fatima Robinson is already a legend. By the time she was 21, she had already choreographed Michael Jackson's Egyptian-themed extravaganza "Remember the Time." She went on to choreograph works for Aaliyah ("Rock the Boat"), Mary J. Blige ("Family Affair"), and the Black Eyed Peas ("Hey Mama" and "My Humps"). Last night she outdid herself on The Wiz. The Tin Man was dabbing. The Crows were doing the Nae Nae. Scarecrow did the stanky leg. It was a beautiful tribute to black dance culture that covered everything from the Electric Slide to the balls of the mid-'80s. Hats off.
Lows
Not enough Toto.
He needs Uggie's (RIP) agent.
Too many commercial breaks.
NBC scored some big advertisers here, from Rihanna's latest Anti promo to Mary J. Blige dancing with a knife for Apple. But could they at least have planned their cuts in and out of scenes more gracefully? Next year, let's bring this into the digital age and ease those transitions by Periscoping the cast during breaks.
Where's the orchestra?
You know, for a production about hidden labor, there was a lot of hidden labor.
Bad special effects.
Ms. Amber P. Riley sang her heart out last night as Addaperle, the Good Witch of the North, but wasn't she supposed to blast off at some point? It looked like the camera cut away from her abruptly. And was having Evillene slowly back into a cloud of smoke the only way to make her melt after being splashed with a bucket of water? A few corners must have been cut in the special-effects department.
No one did the Shmoney Dance.
The choreography was amazing, but it would have been more amazing if the Wizard snached off someone's weave, threw it in the air, and proceeded to do the Shmoney Dance in honor of Bobby Shmurda's rumored release.
How about an ending?
After Shanice Williams's closing number, you would think that there would be some fanfare — some bit of affirmation that we had just collectively watched an incredible live production. Nope. Only when a promo for Nightly News With Lester Holt came on did your Vulture editors finally process that maybe the production was over. Where was the curtain call? Where were the bows? Part of this would have been solved by a live studio audience to give the production the standing ovation it deserved.