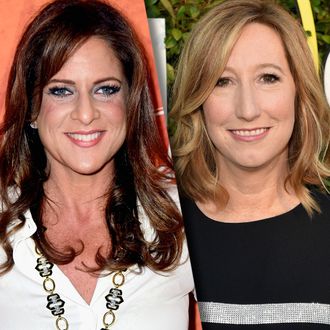 Cathy Schulman, president of Women in Film Los Angeles, and Keri Putnam, executive director of the Sundance Institute.
Photo: Getty Images
A group of 44 Hollywood leaders held a secret two-day meeting hosted by Women in Film and the Sundance Institute to address the gender bias plaguing the industry, reports Deadline. The group included women and men from across the industry, with famous faces like Maria Bello, Jenji Kohan, and Glen Mazzara present. "The commitment from participants makes me believe that the industry is ready to explore real, tangible solutions that create more opportunities for women," said Keri Putnam, the executive director of the Sundance Institute. But instead of just meeting to talk about the problem, they came up with a four-point plan to start solving the lack of representation of women in the industry:
Advocate for "unconscious bias" training in the industry so executives can be more aware of the ways in which they might be (unknowingly) perpetuating the status quo.
Start a "Gender Parity Stamp" to recognize films, TV shows, networks, and studios that demonstrate measurable progress toward achieving gender parity both behind and in front of the camera. 
Begin a yearlong fellowship program for early-to-mid-career female directors, where they will have mentors who will help their careers.
Stay committed! The 44 movers and shakers promised to stay involved with this project.
Here's a full list of the participants:

Adriana Alberghetti
Agent and partner, WME

Stephanie Allain
Producer and former senior vice-president of production, Columbia Pictures

Victoria Alonso
Executive vice-president of physical production, Marvel Studios

Len Amato
President, HBO Films

Darla Anderson
Producer, PGA Board of Directors

Chris Andrews
Agent, CAA

Rowena Arguelles
Agent, CAA

Bonnie Arnold
Co-president, Dreamworks Animation

Glen Basner
CEO of FilmNation

Maria Bello
Actor, activist, author, and producer

Andrea Berloff
Screenwriter, WGA Board of Directors

Cindy Chupack
Writer-producer

Maha Dahkil
Agent, CAA

Mike De Luca
Producer, former executive at Sony, New Line, and Dreamworks

Zanne Devine
Executive vice-president of Film and Television, Miramax

Cassian Elwes
Producer and former agent and head of William Morris Independent

Erik Feig
Co-president, Lionsgate

Sid Ganis
Former executive at Sony Pictures, Lucasfilm, Warner Bros., and Paramount, and former president of the Academy of Motion Pictures Arts and Sciences

Liz Gateley
Executive vice-president, head of Programming, Lifetime Television

Micah Green
Agent and co-head of Film Finance, CAA

Catherine Hardwicke
Director

Nina Jacobson
Producer and former president of Walt Disney Motion Picture Group

Charles King
Founder of MACRO and former agent and partner, WME

Jenji Kohan
TV series creator

Sue Kroll
President of Worldwide Marketing and Distribution, Warner Bros. Pictures

Franklin Leonard
Founder of The Black List, former executive at Universal and at the production companies of Will Smith, Sydney Pollack and Anthony Minghella, Leonardo DiCaprio, and John Goldwyn

Linda Lichter
Founding law partner of Lichter, Grossman, Nichols, Adler & Feldman

Alix Madigan
Head of Creative Affairs, Broad Green Pictures

Zola Mashariki
Executive vice-president, head of Original Programming at BET Networks, former senior vice-president of Fox Searchlight

Glen Mazzara
TV creator and showrunner, co-chair of the WGA's Diversity Advisory Group

Hannah Minghella
President of Tristar Pictures, former president of Columbia Pictures

Bruna Papandrea
Producer and co-founder of Pacific Standard

Kimberly Peirce
Writer-director, Western Council and National Board Member, DGA

Lydia Dean Pilcher
Producer and vice-president, PGA

Gigi Pritzker
CEO of OddLot Entertainment and Board Trustee, Sundance Institute

Keri Putnam
Executive director, Sundance Institute

Howard Rodman
President, WGA West

Rena Ronson
Agent, partner, and head of the Independent Film Group, UTA

Michelle Satter
Founding director, Sundance Institute Feature Film Program

Cathy Schulman
Head of Production, STX Entertainment, president, Women in Film Los Angeles, and board member, Film Independent

Stacy Smith
Director of Media, Diversity, & Social Change Initiative, USC, and author of Women in Film/Sundance Institute research

Mimi Steinbauer
President and CEO, Radiant Films International

Robin Swicord
Screenwriter, governor for the Writers Branch of the Academy, and chair of the Nicholl Fellowship

Paula Wagner
Producer and co-founder of Cruise/Wagner Productions; former CEO, United Artists; Board Member, PGA