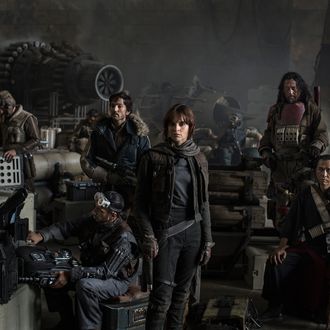 The cast of Rogue One.
Photo: Copyright: 2015 Lucasfilm Ltd. & ™, All Rights Reserved.
You know how, in between all the necessary cross-promotional opportunities, all the Marvel films at least try to be different genres? Winter Soldier was a '70s conspiracy thriller; Ant-Man a heist film; Spider-Man, apparently, a John Hughes film. According to Lucasfilm head Kathleen Kennedy, that same process will generally hold true for the Star Wars stand-alone films. While the new Star Wars sequels, like the prequels, will focus on the extended Skywalker clan, Kennedy told Slashfilm, "the standalone films can be a wide variety of genres inside the Star Wars universe." Rogue One, then, she says hedgingly, could be seen as Star Wars' own heist film, just like the Han Solo origin story will probably be a rip-roaring space adventure, and the rumored Boba Fett film was apparently set to be a Western.  
But don't say the M-word around her! "Star Wars is very different than Marvel in that [Marvel] basically builds their stories around characters, and then they seed those characters in different stories," Kennedy argues. "Star Wars, you know, is a place, it's a universe, so those stories are constructed a little differently than Marvel." Also, she says that the stand-alone nature of each film will let directors put their own stamp on the material, which has not always been the case with Disney's other money-printing franchise. Hey, maybe they really will be able to get Ava DuVernay to direct a Star Wars film — it sounds like it really would be able to be an Ava DuVernay film.