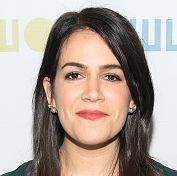 I'm sure they'd all hang out with you if you asked.
Photo: Mike Pont/2015 Mike Pont
In a move that collapses all the indie movies you have to know about to seem cool into one Captain Planet–like super movie, Deadline reports that your close friends and spirit animals Abbi Jacobson, Tavi Gevinson, and Michael Cera will star in Human People, an ensemble film from Dustin Guy Defa (Bad Fever). In a plot that was hopefully pitched as "artisanal Love Actually," Human People follows a group of New Yorkers (a.k.a. people living a life like yours, who just happen to be funnier than you and live in nicer apartments) who navigate relationship drama (just like you have) over the course of a single day (you've also made it through a single day recently, good work!). Your other buddies Michaela Watkins, Isiah Whitlock, Jr., Ben Rosenfield, Buddy Durress, George Sample III, Bene Coopersmith, and Philip Baker Hall round out the cast.