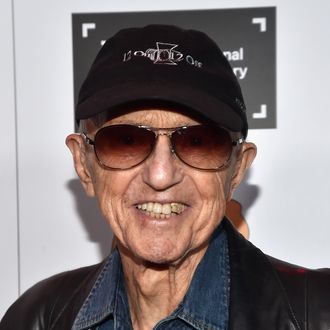 Photo: Alberto E. Rodriguez/2015 Getty Images
Haskell Wexler, who died in his sleep at the age of 93 on Sunday, contributed some of the most stirring and important images of the 20th century for the big screen. Nominated for five Oscars, winning two, and voted one of the 10 most influential cinematographers ever by the International Cinematographer's Guild in 2003, Wexler had a tremendous impact not only on cinematography, but on the way cinematographers, and their work, are viewed by filmgoers.
He won his first Oscar for his work on Mike Nichols's Who's Afraid of Virginia Woolf? (1966), for which Wexler employed stark black-and-white, wide-angle lenses, and deep focus to translate the seminal stage production onto the big screen. His arsenal of lenses allowed Nichols to both distort faces and architectural space for expressionistic use, and capture conversations with few edits or cuts, retaining much of the play's corporal tension. He then worked on In the Heat of the Night (1967), which starred Sidney Poitier in one of the seminal roles for a black actor. Darker skin requires a special kind of lighting setup to show up clearly on film, something few directors of photography cared about before Wexler; to capture Poitier in vivid detail, Wexler used innovative lighting techniques that allowed the actor to use a wider range of facial emotions. The film ended up nabbing Best Picture honors, trumping soon-to-be classics Bonnie and Clyde and The Graduate.
Wexler worked as a supervisor on George Lucas's artistic and commercial breakthrough American Graffiti (1973), helping to encapsulate Lucas's nostalgic longing for the 1950s in gleaming chrome and the tail-fin brake lights of old American cars. He then worked with Lucas's good friend Francis Ford Coppola on The Conversation (1974), shooting the opening long take; the incredibly complex shot zooms in and slowly follows a pair of people walking around San Francisco's Union Square while they are, unknowingly, being surveyed and recorded by sleuthing voyeurs, before finally settling on Gene Hackman, one of the voyeurs. Wexler didn't get along with Coppola and was subsequently fired, being replaced by Bill Butler, though his one shot remains in the film. He was next fired from One Flew Over the Cuckoo's Nest, again being replaced by Butler. They shared an Oscar nomination for their work.
The Woody Guthrie biopic Bound for Glory (1976), for which Wexler won his second Oscar, became the first film to use Garrett Brown's newly invented Steadicam. He shot almost exactly half (by his own stopwatch) of Terrence Malick's sublime Days of Heaven, taking up photography duties after Nestor Almendros and camera operator John Bailey had to leave due to prior obligations. He not only had to retain the lyrical aesthetic established by Almendros (who shot most of the film in that 25-minute window at sunset, as the sun's viscera trails across the horizon in majestic oranges and pinks), but also added his own personal touches, such as selective use of diffusion and Panaflex handheld shots. Almendros won the Academy Award, while Wexler was denied the honor, receiving "Additional Photography By" credit only.
Wexler's son, Jeff, posted the following message on his website: "It is with great sadness that I have to report that my father, Haskell Wexler, has died. Pop died peacefully in his sleep, Sunday, December 27th, 2015. Accepting the Academy Award in 1967, Pop said: 'I hope we can use our art for peace and for love.' An amazing life has ended but his lifelong commitment to fight the good fight, for peace, for all humanity, will carry on."