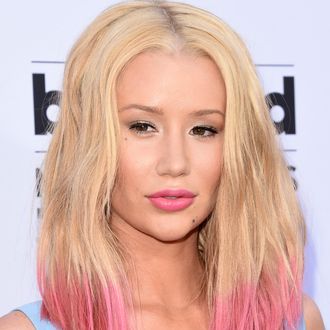 Iggy Azalea.
Photo: Jason Merritt/2015 Getty Images
Maybe it was because of the shot heard round the world, or maybe it was something else entirely, but Iggy Azalea finally felt the need to check in via social media on Tuesday. It had been roughly one month since her last tweet, so the rapper used the opportunity to thread a stream-of-consciousness-type yarn that covered lots of ground. "We are days from 2016, but I came online today and saw its [sic] still cool to try and discredit my 2014 accomplishments," she started, most likely referencing Erykah Badu's recent Soul Train Awards dis. (Badu had said that whatever Azalea was doing was "definitely not rap.") "Seems exhausting. Anyway — I've been enjoying the holiday season and I hope you all have too." (Thanks.)
Read on for more from Azalea's updates, which don't include any disses, videos, or cell phones (even though Badu did give out her phone number last week), but do include notes about her horses, Lady Gaga, and her next album:
Until 2016, then.