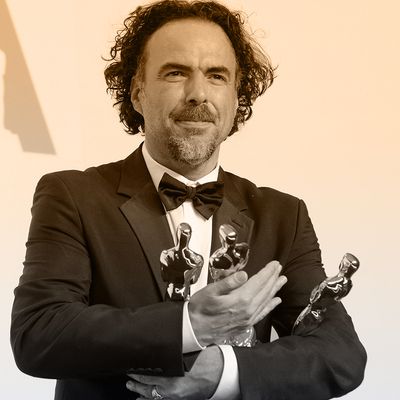 Potential two-term Best Director.
Photo-Illustration: Albert L. Ortega/Getty Images
Directing a movie is an odd job. On one hand, the director, like the actors and grips and caterers, has a specific role on a production, a part within the complex and often unwieldy apparatus of a working film set. On the other, the director's influence is often hard to parse. If they do their job correctly, their fingerprints should be both everywhere and invisible: They should enable each person working beneath them to do their job to the best of their abilities, at the same time providing a mind-set and aesthetic that can unify different elements into one cohesive picture.
In short: When you look at a movie, it's rarely clear exactly what the directordid. I've had filmmakers tell me how frequently they see the work of cinematographers mistakenly attributed to directors; meanwhile, some actors will praise their directors so highly that they sound like they're talking about God. A movie rarely succeeds in spite of its director, and no director can make a movie by him- or herself. Honoring the best director of the year, then, is a bizarre errand to undertake: You're sort of hunting for the tracks of a ghost.
As evidence, look no further than the Academy Award for Best Director. Next February, Alejandro González Iñárritu will very likely be gunning to become the first repeat winner in 65 years. Since 1929, 87 different movies have won Best Picture at the Oscars. Of those 87, 63 also took Best Director. However, 66 different men and one woman have been named Best Director, and of those winners, 18 have taken home multiple trophies: John Ford has the most, with four; Frank Capra and William Wyler each have three; and 15 others have two apiece. Wyler was nominated 12 times; Martin Scorsese and Billy Wilder have been nominated eight times each; Woody Allen, David Lean, Steven Spielberg, and Fred Zinnemann, seven.
But not since 1950 has a director won two years in a row. This happened twice in the earlier decades of Hollywood, when the landscape was far different than it is now, with studios dominating a more monolithic business. Ford won in 1940 and 1941, for The Grapes of Wrath and How Green Was My Valley, respectively; Joseph L. Mankiewicz won in 1949 with A Letter to Three Wives and in 1950 with All About Eve. Although directors are occasionally nominated in consecutive years, the chance to defend their title is incredibly rare. Since Mankiewicz's repeat, only Elia Kazan (1954–55) and Woody Allen (1977–78) have been nominated the year after they won.
Iñárritu's win last year fit the most important metric for a Best Director winner, which is that his movie, Birdman, also won Best Picture. This year, that seems far less likely: The Revenant, his brutal period piece about a fur trapper seeking revenge after being left for dead, is not considered by many to be a favorite for the award, though it will almost certainly be nominated. (In the expanded Best Picture era, a director has yet to be nominated without his film also getting a nod.)
If The Revenant doesn't triumph, could Iñárritu still win Best Director? It's certainly possible: The movie is an astonishing visual achievement that involved a painstaking shoot and great physical sacrifices from its star, cast, and crew, which is catnip for voters. At the early critics' awards, Iñárritu's usually been included in the competition for Best Director, and he'll vie for a Golden Globe. Best of all, the front-runner for Best Picture, Spotlight, is an understated, un-flashy piece of realism, making it far easier for voters to overlook its director, Tom McCarthy.
But Iñárritu also isn't alone in having a muscular, showy film. Ridley Scott and George Miller are both primo competition in the fireworks department, and Miller has been gaining steam in recent weeks, with nominations from the Golden Globes and Critics' Choice Awards. Both men also have other factors in their favor: Scott's been nominated three times but never won, meaning that this could double as his lifetime achievement award. Miller, meanwhile, has never been nominated, and his return to live-action adult filmmaking after 20 years away provides an excellent metanarrative.
Just by getting nominated, Iñárritu would vault into rarefied company, becoming the first filmmaker in over 30 years to pull off a nomination the year after winning. A victory would be an even more astonishing achievement — and if you've seen and read about The Revenant, you know how hard-earned that award would be. But on the bright side, Best Director glory didn't require Iñárritu to eat raw bison liver. Actors, man.