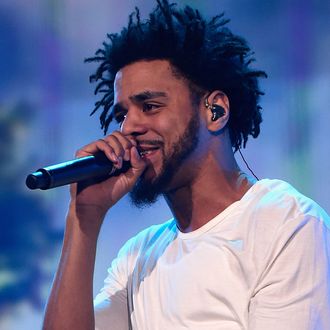 This should be good.
Photo: Kevin Mazur/Getty Images
J. Cole's surprise album 2014 Forest Hills Drive ended up being last year's best-selling rap album. (It recently went platinum.) Now he's getting his own HBO special to prove he's no longer just Jay Z's protégé: The network just announced it will air Cole's homecoming concert — filmed in his hometown of Fayetteville, North Carolina, back in August — on January 9. It'll be both a concert film, featuring appearances by Jay Z and Drake, and a documentary, with backstage footage interspersed throughout the special. It's a big move for Cole, who's following in the footsteps of his mentor Jay, whose On the Run tour with Beyoncé also received an HBO special last year. And don't you worry, cord-cutters: The full special will also be on HBO Now and HBO Go.