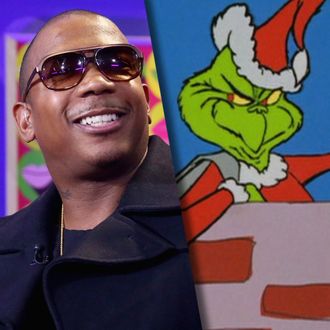 Ja Rule ain't no Grinch!
Photo: Getty Images, Cat in the Hat Productions
Need a good hit of nostalgia this Christmas Eve? Then gather 'round the soft glow of your computer and listen to not-always-there-when-you-call-but-always-on-time Ja Rule read Dr. Seuss's holiday classic How the Grinch Stole Christmas for BBC1 Radio. You're likely well-acquainted with the story of the joyless green monster who hated happiness and good things and pulled a reverse Santa and stole all the presents from the citizens of Whoville. The entire reading is probably a subtle way to diss 50 Cent and/or Eminem. Merry Christmas!