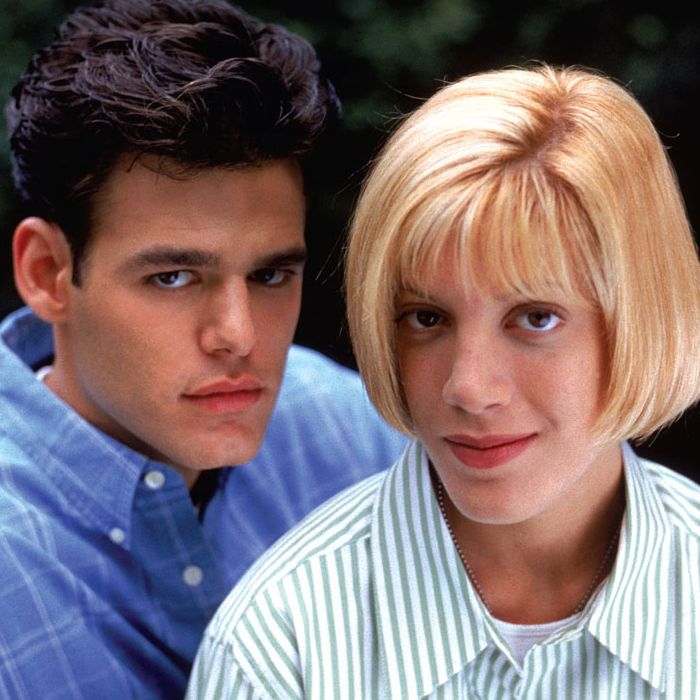 Photo: Columbia Tristar Productions
Mother, May I Sleep With Danger?, arguably the best title ever for a TV-movie, turns 20 next year — and James Franco is not about to let the anniversary go unnoticed. Vulture has learned that the Hollywood Renaissance man is partnering with Lifetime and producer Sony Pictures Television for a remake of the 1996 NBC movie-of-the-week masterpiece, which starred Tori Spelling as an innocent college coed whose seemingly wholesome boyfriend (Ivan Sergei) may actually be [cue dramatic music] a murderer. Lifetime and Sony aren't commenting on casting, but people familiar with the production tell us that Spelling (thankfully) will appear in the new MMISWD, almost certainly playing the titular mother.

As for Franco, he's not currently attached to appear onscreen, but he will get executive-producer and story-by credits on the remake. Amber Coney and Melanie Aitkenhead, both of whom worked with Franco on the upcoming feature adaptation of his novel Actors Anonymous, will write and direct, respectively. NBC premiered the original MMISWD on September 30, 1996, as part of its powerhouse "Monday Night at the Movies" franchise, which in the mid-1990s successfully targeted Gen-X viewers (who were then mostly in their 20s) with titles about young folks in various form of jeopardy. The original telecast of MMISWD ranked No. 26 overall the week it aired, averaging 15.8 million viewers. Over the next two decades, the movie gained a cult following through repeated reruns on cable networks — including Lifetime.