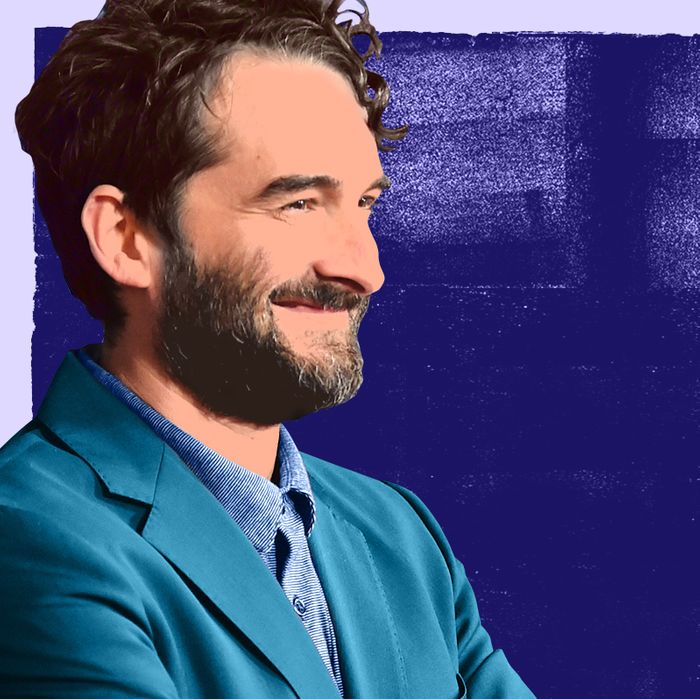 Illustration: Maya Robinson and Photos by Getty Images
Jay Duplass got cast on the Amazon show Transparent in what you might call the most Duplassian way imaginable. One night a few years ago, at a get-together for directors that he and his younger brother, Mark, 36, regularly host, Jay, 40, was talking to Jill Soloway, writer-director of the movie Afternoon Delight and a former writer on HBO's Six Feet Under. Soloway was telling Jay about the project that would become Transparent, and mentioned that no matter whom she auditioned, she couldn't seem to cast the brother: a Jewish guy in his mid-30s who is wildly charismatic and wildly insecure at the same time. As soon as they filled the part, she said, they could start rolling. They spoke for a while longer, with Jay naming actor friends, many of whom Soloway had already considered. All of a sudden, she stopped him.
"It's you," she said.
At the time, the Duplass brothers were in the process of developing their own show, Togetherness, for HBO, so the prospect of taking on the lead in a pilot at the same time seemed daunting, if not psychotic. Beyond that, Jay really wasn't an actor. He tried to talk Soloway out of it, to no avail. He got the part. The following year, the show premiered, and after becoming the talk of the latter half of 2014, it kicked off 2015 with two wins at the Golden Globes, including Best Musical or Comedy TV Show. It tallied another two wins at the 2015 Emmys, and then season two arrived in December to glowing reviews. After more than a decade of producing and directing scrappy, distinct indie movies, Jay Duplass was now part of a bona fide hit — as an actor, in his first-ever featured role on a TV show.

In truth, it's not all that surprising that Duplass would find himself in that position. For someone who came up, with his brother, adhering to a collaborative creative ethos, saying yes and working things out was just part of the game. Last year also saw the release of the tiny, Kickstarted film Manson Family Vacation, a charming, unpredictable, and somewhat deranged tale of two brothers, one Manson-obsessed and the other more square than a saltine. The movie clearly possesses what you might call the Duplass gene, characterized by a fascination with the drama and concussive emotion of everyday domestic life. This makes sense: The Duplass brothers executive-produced it, as they've been doing with more and more movies that share this DNA, including such other 2015 films as Patrick Brice's The Overnight, Hannah Fidell's 6 Years, and Sean Baker's awards-relevant Tangerine.
Beyond just being influenced by the brothers, though, Manson Family Vacation also stars Jay in his first feature-film-starring role — another gig that came to pass because Jay obliged someone, in this case, the film's director, J. Davis. "J. was a friend of mine. He'd come to our screenings and give us feedback, and we were like, 'This guy knows what he's doing,'" Jay told me in mid-October over lunch at the W Hotel in Hollywood. He had shaved his formidable beard for Manson Family Vacation but grown it back for Transparent, and he chewed on and tugged at it as he talked. "He had this idea for this very personal thing, and he said, 'I want you to act in it, because your natural reaction to my obsession with Charles Manson is disgust.' But to me, it was more like, 'My friend needs to make this movie that comes from his soul,' and that's what Mark and I do: We help people make the things that they need to make."
Manson wasn't Jay's first acting job: He'd helped out in friends' small movies, and he and Mark have reccurring parts as midwife brothers on The Mindy Project. (That role came about in a similar way to those other parts: The brothers were talking to Mindy Kaling about working together, and she said, actually, she had this new network show; would they want to act on it?) But Manson was an undertaking of a different size and scope. Jay plays the lead alongside Linas Phillips in what is, for an indie, a pretty ambitious project that possesses a surprising amount of emotional gravitas and impact. Some of that is attributable to a quirk possessed by Jay's character, a stylistic choice made by the actor that's interesting and effective: He never stops smiling.
"Before shooting, we talked a lot about the complexity of being brothers, and how they push your buttons, yet also know you better than your wife does," Jay said. "It can piss me off, but at the same time, you know how to make your brother laugh more than anyone, and a lot of times you find yourself just having fun. The best thing you can do is smile."
It's a choice that belies Jay's relative lack of acting experience. He and Mark began making movies in New Orleans when they were very young, and because of their age difference — Jay is four years older than Mark — it worked out that Jay would operate the camera while Mark stayed in front of it. As they grew up, they lived what Jay calls an "uncultivated, un-curated" childhood, filled with street football and DIY art projects and a general improvisational spirit, including a deep involvement in music.
"When you grow up in New Orleans, like, the only way to be an artist is to be a 55-year-old black musician. That's basically what we wanted to be," he said. "If you had asked me very truthfully what I wanted to be when I was 16, the answer would've been, 'I want to be a 55-year-old black musician.'"
In college, Mark dedicated himself to music and Jay made movies, with each helping the other out. But filmmaking seemed like the best way to actually ensure some semblance of a stable life, so they focused on that, starting with a Coens-aping feature they now describe as a "disaster." Afterward they developed, out of necessity, the manner of DIY production that came to define them — "caveman-style," as Mark calls it; you may know it as mumblecore — with their childhood formula more or less staying the same: Jay has served as the camera operator on everything they did up until Togetherness, with Mark acting and both writing and directing. For years they were productive, though not entirely successful.
"I had to live on $17,000 a year until I was 33, because I was a failed artist until I was 29, when I made my first short film that went to Sundance," Jay said. "There was a tipping point once Puffy Chair sold at Sundance, and we started getting paid to write. It wasn't big money — it was like, $55,000 a year — but that was fucking huge! I had gone to a Catholic prep school where everyone was rich and having kids by the time they were 30. But we never got jobs. We decided to just keep moving our art forward, because we believed from the beginning, and I still believe, that you don't get to be a director by rising up through the PA ranks. You get to be an assistant director by rising through the PA ranks."
If the Duplass brothers' artistic philosophy had to be distilled to a mission statement, that might be it: Keep moving your art forward. In addition to producing a handful of films (after Puffy Chair, there was Baghead, Cyrus, and Jeff, Who Lives at Home, to name a few), the brothers also secured the Togetherness deal, as well as a 2015 pact with Netflix to produce four movies for the service. And now Jay, the brother who had spent his life almost entirely behind the camera, has a burgeoning, exciting career in front of it.
When Soloway's casting epiphany occurred at the brothers' party, Jay didn't know anything about all the sex his character would be having, or the emotional depths he would plumb: He just knew that Soloway wanted him in. Not long after, she arranged a script reading with some of the show's other leads, Amy Landecker and Gaby Hoffmann, who play Jay's sisters.
"Once I read with them, I was just like, Jesus, this is fucking … very alive," Jay said. "And all the actors were, like, fully embracing the improvisation, and how anything can happen in this moment. It's a very dangerous, chaotic set, but that's what I love about it."
No amount of training could adequately prepare an actor for work like Transparent, which routinely asks its cast to go hurtling out of their comfort zones. Fortunately, even without years performing in front of a camera, Jay took to it as naturally as Soloway felt he would.
"The one thing I had to my advantage was that I had already been in a room with major actors," Jay says. "I directed John C. Reilly, so I'd been in that environment. But the fact that I now had to do it myself was fucking scary. What I found, though, is that I don't have many emotional blocks. I've always been that person where everyone's like, 'Can you not feel everything so much?' I'm not afraid to cry. I don't have blocks toward anger. Before I knew it, it was just happening on set, and it was very weirdly easy for me. It came way easier to me than writing or directing ever did."
That newly expanded skill-set has helped reshape his dream scenario for the future: As it stands, he's hoping for six years on Transparent, six concurrent years of Togetherness, and then, afterward, a more diversified acting career, with the ability to make Duplass Brothers movies every few years. In the meantime, those two shows are the priority. Since Transparent's premiere, Jay has been receiving scripts for projects seeking him as an actor. But if the Duplass brothers are anything, it's busy, and the mixture of a packed schedule with his own particular aesthetic — read: he's picky — has kept him from signing on to act in someone else's project. Not long ago, he was offered what would've been a lead role opposite a recent Oscar-winner in a questionable $10 million movie. After much deliberation, he passed.
"I'm a 40-year-old writer-director, but I'm like a 20-year-old actor that has insanely high standards," Jay says. "And I have those standards because I'm on Transparent. I'm on an amazing show with an amazing crew, my character is complicated as fuck, it's set on the east side of L.A., where I live, and it's won a Golden Globe and been nominated for an Emmy, and is at the forefront of a civil-rights movement that I deeply believe in. So it's like, how are you gonna fucking top that?"
He can start by continuing to talk with his friends.