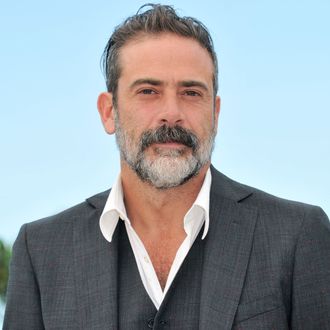 A very sexy Negan.
Photo: People Avenue/Corbis
"Y'all know about Negan?" a bearded Jeffrey Dean Morgan asked the audience at PasCon. "Me, too. It's why I did it." Morgan hasn't publicly talked about his upcoming role on The Walking Dead, where he'll play the biggest bad from the original comics so far: Negan. "I've become accustomed to playing the good guy, maybe a rough exterior, but a heart of gold in there somewhere," said Morgan, who is still, in our heart of hearts, Denny Duquette. "I think the challenge for me in this role is going to be, is there any heart in Negan? For me I look at that as a challenge as an actor, and that's the kind of thing that I embrace and really look forward to. I am super excited about it." How excited? Here's how he got the call for Negan:
When my agent/manager called they said, 'You've been offered this thing on The Walking Dead … it's to play this big bad.' They didn't know the character's name, because I think it was supposed to be a secret. And I'm like, 'Is it fucking Negan?' And they're like, 'I don't know, we're going to have to call you back in a second.' And I'm like, 'No, it's fucking Negan. And I'm fucking doing it.'
See? He's already in fucking character!