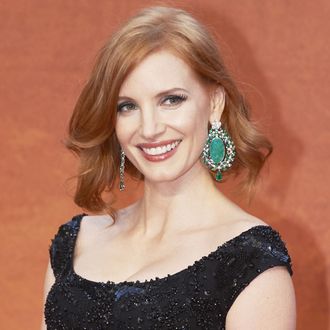 The experience was not a Chas-pain.
Photo: NIKLAS HALLE'N/AFP/Getty Images
Are you having a good week at work? Maybe your boss said something nice to you, or your Q4 self-eval went well, or you hit those new sales targets — either way, that all sounds absolutely miserable compared to the wonderful experience had by Jessica Chastain on the Holocaust zoo drama The Zookeeper's Wife. Why was it so great? As the actress wrote in an essay about the shoot for THR, unlike other film sets, there were women everywhere: "There are female producers (Diane Levin, Kim Zubick and Katie McNeill), a female screenwriter (Angela Workman), a female novelist (Diane Ackerman), a female protagonist and a female director," to say nothing of the female camera operator and female stunt coordinator.
Though men still made up the majority of the crew, having so many women in positions of power was great for everyone, Chastain reports. "When you have both genders represented, then you have a healthier point of view. The energy is great, you all are working together as a community, and everyone is participating in the exchange of ideas," she says. " You don't feel a hierarchy; you don't have anyone feeling like they are being left out or bullied or humiliated." And if that wasn't enough to make you feel jealous, the shoot was super-fun, too: "We all hang out all the time … We're giddy with happiness." (Our co-workers, meanwhile, can't even be bothered to do a duet of "Torn" with us at the company Christmas party.) It's more proof that when you hire more female directors, that choice trickles down to the rest of the crew. Take it from a two-time Oscar nominee: "It's been heaven for me."