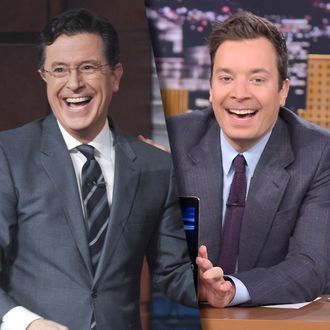 Welcome, Stephen!
Photo: CBS, NBC/Getty Images
Is there a late-night war? Not if you look at the ratings. Jimmy Fallon beat Stephen Colbert 56 out of 60 nights, and has only widened his lead in the golden 18-to-49 demographic. This was by design. You may have noticed that the night after Stephen Colbert's highly anticipated debut on September 8 as David Letterman's successor on The Late Show, Jimmy Fallon brought out the big guns the very next night, enlisting BFF Justin Timberlake to do another iteration of History of Rap, and morning host Ellen DeGeneres to face off with him in a lip-sync battle.
Writing for THR, Bill Carter reports that this was all "very much the host's idea" to stop Colbert from hitting on a hot streak. In fact, he reports that "one prominent late-night player" said that facing the show that night of September 9 was like "going up against Hiroshima and Nagasaki." (You know,'cause it's a war.) Lately, Colbert has been slipping behind Jimmy Kimmel and even Seth Meyers, who airs an hour after he does. We might be in an era of late-night détente, but it's mostly because Jimmy Fallon is crushing the competition with classroom instruments and a smile.