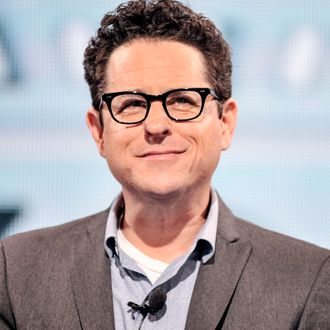 Photo: Keith Tsuji/2013 Getty Images
J.J. Abrams's Star Wars: The Force Awakens is destroying box-office records like the rebels destroyed the Death Star, but the film almost had a different director. Abrams, who has directed financially successful entries in the Mission: Impossible, Star Trek (for which he recently apologized), and Star Wars franchises, initially turned down the The Force Awakens because he didn't want to be "the guy who does sequels." Speaking with The Times, the 49-year-old director said that when Lucasfilm president Kathleen Kennedy called, "I did something I don't normally do, which is look at my career. I really did feel like 'that sounds like the wrong idea.'" Abrams's wife, Katie McGrath, convinced him to do the film.
Abrams added, "I wanted people to feel the magic of what Star Wars was: the sense of romance, the sense of heart, the loyalty, the sweetness, the friendship, the unexpected scenarios, the discoveries the characters make, the sense of impossible scale made possible."
J.J. Abrams, the guy who didn't want to do sequels, did a sequel that's now breaking records. We'd say he made the right decision.