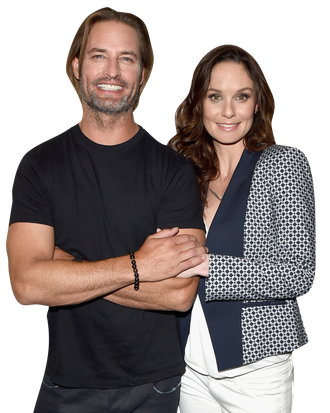 USA's new genre-bending series Colony is part espionage thriller, part family drama with a dash of sci-fi, but don't obsess over the aliens — because they may not even be aliens, says co-creator Ryan Condal (Hercules). Set in the near future in Los Angeles, the show, premiering January 14, centers on one family's struggle for survival as they are torn by opposing forces: the collaborators and the resistance of an occupation that took place nine months earlier and which has divided the city into three separate blocks. Colony stars Josh Holloway (Lost, Intelligence) and Sarah Wayne Callies (Prison Break, The Walking Dead) as a married couple who were separated from one of their three children during the occupation.
Vulture spoke with Holloway and Callies about working together again, the non-alien aliens, and the bruises on her leg.
How did working together on Whisper help you embark on a new TV show together?
Holloway: It helps having known each other, immediately liking each other as people. So when I knew Sarah was going to be in it, I thought, Yes! That person I know can bring it and understands the stakes involved because we both are in long-term relationships and we both have children. And we're in it for the long haul. That is what the story centers around — this family. So that was for me super exciting.
Callies: It's a relief to know I can trust the person I'm going to be doing some of the most important work of the show with. You know when you get together with a new cast sometimes you're like, Are you an asshole? You never know. It feels like we get to start from a little bit of a second date. We decided we like each other — you're gonna be a cool guy, let's get the real work done.
A lot of the buzz already has been about the aliens. Don't you think people will fixate on the aliens, even if you say it's not an alien-invasion show?
Callies: I think there's an aspect to the story — these are two people who are both doing everything they're doing because they think it's the right thing to do for their family, but they're both doing things the other person might not approve of. I think the most dangerous part of an affair in a marriage is not the sex — it's the secrecy, it's the breach of trust. These are people who are starting to keep secrets from each other for the first time, and that cornerstone that's always been at the center of that family starts to shift. And that's very dangerous. So, yeah, the aliens are cool! They're awesome.

Ryan Condal says the occupiers are not aliens.
Callies: It's true. They might be Canadians.
Holloway: They are definitely Canadians.

Callies: Maybe after all these years, the Canadians are finally like, you know what? We've had enough. We're building a wall around y'all.
Holloway: In the great tradition of sci-fi, it's also a human story. There may be sci-fi elements that are cool, but what is going to capture the audience and drive this forward is the relationships and the characters. This is a story of human perspective. What is right? What is wrong? What would you do for your family? What would you do for mankind and who's first? People will answer that differently.
Callies: One of the things that's cool about science fiction is that it lets us get into politics that you can't get into head-on. So when you're talking about an occupation, Cuba's relevant. I don't know that anyone would be super interested in watching a show about the occupation of Cuba, but if you make it about the occupation of Los Angeles and you make it a mysterious outside force that is doing things to maintain control of its population, that's going to be another level of what people around the world can relate to. There's a human element in it, right? We've all got family.

Carlton Cuse said he always had Josh in mind for this role. Sarah, what was it like for you?
Callies: It actually was hard to make it a yes on their side. I read the script and the first thing I heard was, "They don't want you for it; they don't even want to see you for it." I was shooting a movie with Nic Cage and I told him, "I'm gonna fight like hell. I gotta fight." And he said, "Just make them watch your tape." For a minute, he was going to tape with me but then he said, "You know what, I have the most recognizable voice in all of Hollywood. If I tape with you, all anyone's gonna go is, Is that Nic Cage reading with you?" Very kindly, he bowed out. I was in Toronto and I called up a casting director friend of mine and I said, "Give me an hour! I'll bring you a bottle of wine. Just tape me." And I sent in the tape, and after 12 hours, they gave me the offer.
What was it about it that made you want it so badly?
Callies: I'd never really seen a woman like this. They crafted a woman who was incredibly vulnerable and incredibly feminine and incredibly strong and brave and willing to be duplicitous and still find honesty. There were more levels to her than I'd seen in a really long time.
Holloway: The idea of femininity as a tool rather than the girl with the machine gun and the boots. It's different and more powerful.
Josh, how do you like being trapped in Carlton Cuse's labyrinth of secrets again?
Holloway: It feels like an old pair of blue jeans. I don't know where I'll be going tonight, but I'm wearing my favorite jeans. It's kinda like that. It's definitely a mystery, and funny enough, Lost trained me that way. I like surprises. I like mystery. I'm not the kind of person who goes to the writer's room and goes, I need to know the whole story so I can prepare. No, don't tell me anything! In fact, Carlton and Ryan were on me — Did you read the first three? And I was like, Patience! I don't want to get too far ahead of the relationship.
Callies: I'm so the other way. When they gave me the first three, I read them in like an hour and a half. I was like, Now I know where I'm going, I gotta figure out how to get there. It's good. We work really differently, which is good for me. You're so intuitive. And if I'm not careful, I overthink stuff. So with Josh it's, "All right, take my hand, let's jump off a cliff and figure it out!"
Sarah, I'm worried about your job security. The track record is not good.
Callies: I've been telling Ryan — there's no chance I survive the third season. No chance! Because I died in Prison Break in season three, and I died on The Walking Dead in season three. Maybe they'll execute me in season three and I'll go lead the aliens, I don't know.
Are you enjoying all the action sequences?
Callies: I always do. Here, let me show you. Take a look at this. I love this! [She lifts her pant leg and it's hard to find a spot that's not bruised.]
How did that happen?
Callies: I can't tell you. The great thing about action is there's no acting. Somebody puts you in front of something that's blowing up, it blows up, you get hot, your heart starts to race. If you're running and it's hot, you're not having to act that it's hot. You. Are. Hot.
Holloway: I love it too! You just have to tune the instrument [points to his body] and let it ride.