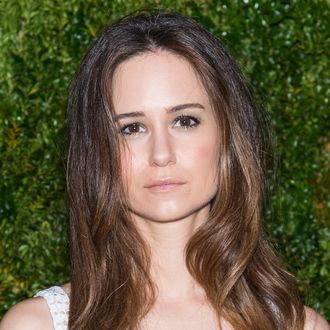 Yo, Sportello, Shasta was hiding in space.
Photo: Gilbert Carrasquillo/2015 Gilbert Carrasquillo
May the small but dedicated crowd of Inherent Vice and Steve Jobs fans rejoice! Deadline reports that Katherine Waterston will play the lead character, Daniels, in Alien: Covenant, Ridley Scott's follow-up to Prometheus. This is her biggest role yet. Waterston had a small roll on Boardwalk Empire, but she broke out with Paul Thomas Anderson's Inherent Vice, where she played Shasta, an enigmatic girl who disappears one day. But by the time Alien: Covenant reaches theaters in 2017, you'll probably know her as "that girl from Fantastic Beasts and Where to Find Them" (her character's name is Porpentina Goldstein; good luck remembering that).
Waterston's role in Covenant is being kept under wraps, though we do know, per Fox's official synopsis, that the film will follow "the crew of the colony ship Covenant" who discover "what they think is an uncharted paradise, but is actually a dark, dangerous world — whose sole inhabitant is the 'synthetic' David (Michael Fassbender), survivor of the doomed Prometheus expedition." Covenant will also be first film in a trilogy that connects Prometheus back to the alien films, which means that Waterston could have a lot of steady work ahead, unless she suffers one of those gruesome deaths so common in the Alien universe. Amid all this mystery, there's one thing that's certain: She and Fassbender will stage a Steve Jobs reunion. Hooray!