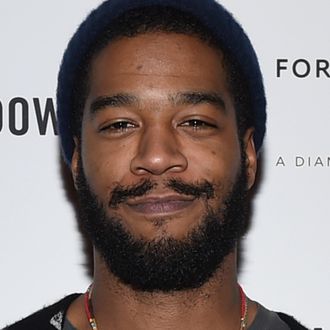 Kid Cudi.
Photo: Nicholas Hunt/2015 Getty Images
Like its name, Kid Cudi's "Speedin' Bullet 2 Heaven" tour has proven to be elusive. In a lengthy tweet, the rapper explained late Tuesday that he's decided to cancel future shows for the time being, as he needs to tweak production hurdles and deal with personal problems. "I'm upset and I'm sure some of you are too," he wrote, hinting that appearances might be made up early next year. "I wanna send mega mad love to everyone in Denver who came out and showed support and love throughout the entire show."
The Denver visit he's referring to was the first and now-final stop of the tour — one that began late Monday at the city's Fillmore Auditorium and showed hints of a rocky start. "The first five songs were entirely new and rock-based with a Nirvana cover that was well-done considering Cudi isn't exactly Kurt Cobain," read a review on the Denver Post's music blog, Reverb. "Still, the audience was stoic and confused, and would be for the first 25 minutes of the show." After news spread of Cudi's cancellations, the psychedelic soloist shared a consolation, in the form of a brand-new song:
It's the single from his forthcoming, self-produced album of the same name, which he has called the purest form of his artistic self. Listen above as Cudi drones, "Oh, if I crash, or if I land, no matter the case, I'm all smiles," and strums guitar over signature, trippy production, courtesy of him and Plain Pat. The full album is slated to be released digitally on Friday, and physically on December 18.
Concrete tour updates are pending.