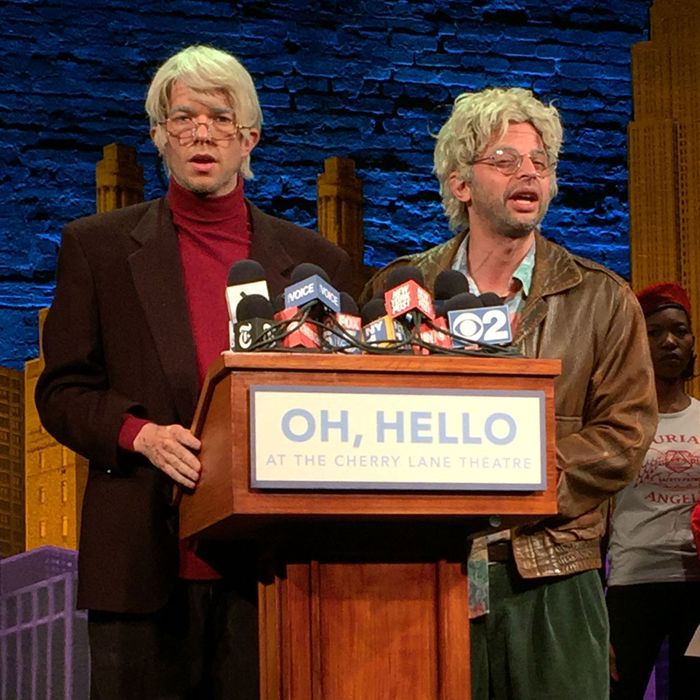 After making their mark on national television by pranking people with "Too Much Tuna" on three seasons of Kroll Show, Nick Kroll and John Mulaney's Gil Faizon and George St. Geegland are trying to revolutionize (Off) Broadway shows with their 70-minute production of Oh, Hello. The duo are the stars of the completely sold-out run at the historic Cherry Lane Theatre in Manhattan, which opened on December 1 and runs through December 20. Thus far, at the end of the performance, the characters hold a press conference during which the audience can ask questions. Tuesday afternoon, they held an actual press conference full of actual journalists eager to find out how these eccentric Upper West Siders, who describe themselves as "Kind of like the Coen brothers except even less approachable," put this two-man show together. 
Below, find a few choice answers from the press conference. There's no word yet on an extended run of the show, but according to both performers, the next venue they'd like to take on is the Garden (St. Geegland: "The community garden on East 9th Street, near that rehab. You know, the one with the painted tires?").
Are you concerned that all this fame is going to go to your heads?
"Luckily, we've already got a crippling, lifelong addition to cuh-caine," Faizon said. "So we're not too afraid of that aspect of fame. I would say we've always been sort of famous."
"I am one of the most universally ignored novelists of the 1970s. My big book was Prostate Cancer As a Metaphor for Israel, which was as clunky as the title suggests," St. Geegland added. "I was often at Elaine's. Because it had a bathroom — that locked."
"And I've been famous for years as one of the world's only walking Hirschfeld cartoons," Faizon said.
On what audiences can expect from the show:
"They can expect to lose $80 to start, because I believe it's debited when you purchase the tickets," St. Geegland said. "And then, you know, to see theater in a small room."
"It's a visceral experience," said Faizon. "People will be pleasantly shocked and embarrassed."
Did any famous directors or producers help you prepare for this?
"We've run through numerous directors, stooges, idiots, dunces who don't understand our take, and we fired them," Faizon said.
"We were big fans of [Mike] Tyson on Broadway," St. Geegland said. "We tried to get him to direct this, but his direction was 'Just stand there, and they'll be curious about you but terrified, and the whole thing will be weird and tense.'"
On giving advice to people who want to do their own Off Broadway shows someday:
"Not enough people ask us for advice," Faizon said.
"It's as if we don't look like strong examples," St. Geegland added.
"We got our show fully funded by the Cherry Lane lesbian playwrights' initiative," Faizon clarified.
"We sent in our photo and they thought we were lesbians, and the rest was history," said St. Geegland, to which Faizon replied: "Or should we say … 'herstory.'"
On their set:
"These sets we stole from the 1971 production of On the Town, and we have Gordon's stoop from Sesame Street," St. Geegland explained. "We just backed a truck up to the set in Astoria and fucking pilfered it."
On their Broadway competition, Hamilton, which they have not seen:
"We saw 1776, and I believe Hamilton is like The Wiz of that," St. Geegland said.
"We have a West Indian super named Hamilton, and we thought the show was about him," Faizon added.
"I thought it was about George Hamilton," said St. Geegland
On working with John Mulaney and Nick Kroll after Kroll Show:
"We were doing our show, Oh, Hello, and I guess Nick and John saw the show at some point, and they said, 'Come join us on Kroll Show on Comedy Center,'" Faizon said.
"It was an okay situation until the wrap party," St. Geegland said.
"We sat in our car, it was a rental, a PT Cruiser, very nice car," Faizon began. "And we did a little bit of a lot of cuh-caine … I would say a dashboard's worth of cuh-caine. And then we went into the wrap party for the show, and what we did is we burned a lot of bridges … We were thrown out, and because of that, I'm told Nick decided to end the show, it was such a bad taste in his mouth."
"To be turned down by two shut-ins you gave one last chance to was upsetting," St. Geegland said.
"But we're still dear friends," Faizon assured.
"And John was free," St. Geegland added.