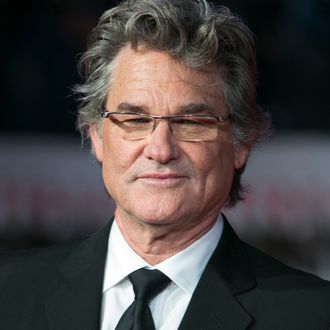 Kurt Russell.
Photo: John Phillips/2015 Getty Images
Ever since last week's James Gunn–Kurt Russell news, The Hateful Eight's Hangman has been hearing lots about movies with Guardians of the Galaxy in their titles. The only problem is that he hasn't seen the first one and doesn't know what the fuss is about. Russell said as much in recent interviews with The Wall Street Journal and Wolfpop's "Happy Sad Confused" — though he did confirm that Gunn has contacted him, and that talks to potentially be Chris Pratt's Star-Dad are under way. (He just might need some time to get caught up.) Here's the full, honest answer from the "HSC" podcast, posted Monday:
[The Guardians rumor] is one of those things that's really funny. The way the world works today is very different from back in the day when nobody knew about anything. I literally got a phone call two days ago about this. You got to understand something, I've never seen Guardians of the Galaxy. I don't know anything about it. I'm one of the four idiots who have never seen it, evidently.

I tell you what: Many, many times I've heard, "That's a really fun movie. Really good movie. Great characters." But I don't know it. I didn't realize [Gunn] had written and directed it. So we talked to each other on the phone and I just had to be honest and say, "Thank you for considering me, I have to read it and I have to watch the movie, because I can't bring anything for you. I got nothing to offer here." I'm amazed to get asked about this, because everybody knows more about it than I do.
Filming for Vol. 2 is expected to begin next year, for a May 5, 2017 release. (You've got some time, Kurt.) In the meantime, catch the whole "Happy Sad Confused" interview, which also includes bits on The Hateful Eight and more of Russell's past work, here: