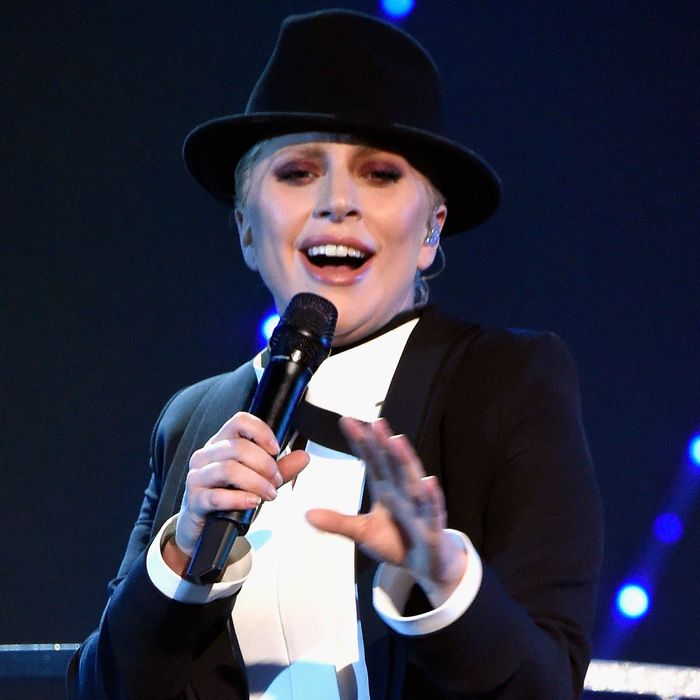 Photo: Kevin Mazur/Getty Images
"May you live to be 100, and may the last voice you hear be mine" was one of Frank Sinatra's most legendary quotes — one that's currently doing double duty as the theme of a yearlong career retrospective celebrating the 100-year anniversary of his birth (December 12, 1915). But consider this sentiment also something of a challenge to the dozen-plus stars who dared to tackle some of his most iconic songs at a tribute filmed December 2 in Las Vegas for Sinatra 100: An All-Star Grammy Concert, set to air Sunday, December 6 on CBS at 9 p.m. Could some of pop's biggest names possibly leave a memorable stamp on songs already so imprinted onto one set of pipes?
The answer was yes, but only in certain instances. Sinatra embodied many personae in his nearly 75-year career — the crooner, the matinee idol, the well-connected Italian with rumored mob ties, the blue-eyed womanizer, the Jack Daniels–swilling rapscallion, the Vegas player — and often all at once. So the artists who were able to take on at least two or three of those attributes in their performances found the best results: Harry Connick Jr.'s almost-too-effortless "Luck Be a Lady" (upon flubbing the words in the third verse, Connick crowed, "And I don't even drink!"), Seth MacFarlane's booze-soaked "One for My Baby" (sung on an actual barstool), and Usher's chewy "That's Life" (complete with a flip of the bird and a hat-tossing key change). Most thrilling of all was Lady Gaga's gender-bending "New York, New York," for which the pop star donned her own take on Sinatra's classic tux, hit on all the ginger-haired dancers ("Good to see ya, doll!"), and soft-shoed her way into the night.
Others played it safer, opting to honor the legacy of Sinatra's inimitable Capitol era (1953–1961) rather than the full arc of his legacy. Celine Dion and Tony Bennett trotted out their well-known covers of "All the Way" and "I've Got the World on a String," John Legend made "Young at Heart" newly wistful, and Alicia Keys proved the effectiveness of stripping "I've Got a Crush on You" down to just a piano. Much more bold was Bono, who filmed a London performance of a song written for (and rejected by) Sinatra in the 1990s, an all-too-on-the-nose saloon ballad that was literally called "One Shot of Happy, Two Shots of Sad."
Several key members of pop's new class appeared as well, and though they stayed more in their own artistic lanes, they still managed to evoke Ol' Blue Eyes's spirit through their contemporary crooning. A prerecorded Sam Smith delivered a stunning "My Funny Valentine" that scaled notes octaves higher than Sinatra's baritone could ever touch, while a white-jacketed Nick Jonas proved he could make other singers "Jealous" with an assured "In the Wee Small Hours of the Morning." Juanes capably filled the meager Latin-music slot allotted for these kinds of affairs by paying homage to Sinatra's work with Antonio Carlos Jobim on a trio of Brazilian love songs, a treatment bristled with the Colombian singer's rock edge.
Less praise should be reserved for Adam Levine, who sleepwalked through "The Best Is Yet to Come," and an assortment of country stars who didn't quite fit the bill. Garth Brooks and Trisha Yearwood turned in bland versions of "The Lady Is a Tramp" and "I"ll Be Seeing You," while Zac Brown looked plain uncomfortable in a top hat tackling "Bewitched, Bothered, and Bewildered" and, later, "The Way You Look Tonight." Only Carrie Underwood could evoke genuine chills with her "Someone to Watch Over Me," which took on churchlike qualities in her hands.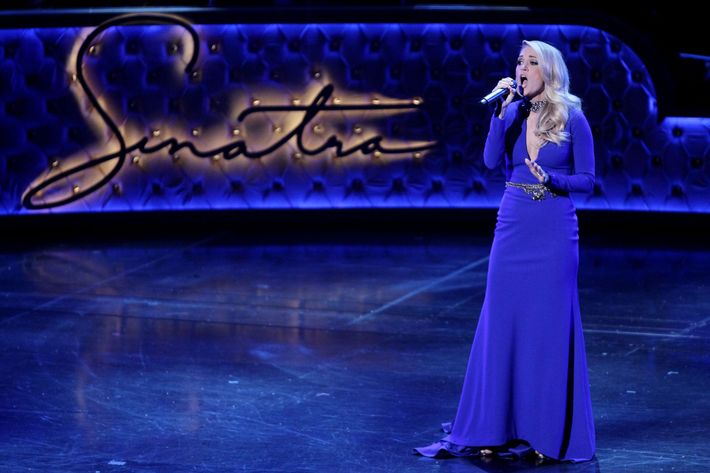 Though Sinatra 100 mostly adhered to the artists' connections to the award show (the special is part of the Grammys' annual tributes to iconic artists, helmed by longtime producer Ken Ehrlich) and/or CBS (perpetual Grammy host and NCIS: LA star LL Cool J and Scorpion's Katharine McPhee both appeared), it's worth pondering what it could have looked like with a few extra doses of Sinatra's Rat Pack snap. Noted Sinatra obsessives Jay Z and Justin Timberlake were both absent, as was Timberlake's very own doting Dean Martin, Jimmy Fallon. Longtime Sinatra tribute act Michael Bublé was also a notable no-show, instead lending his more mom-friendly side to the Rockefeller Center tree lighting. Even Blake Shelton would have been a more fitting country choice than Brooks or Brown, were he not so closely associated with NBC's The Voice.
Still, in a year that's already given us Alex Gibney's excellent two-part HBO documentary Sinatra: All or Nothing at All, a Lincoln Center exhibit, a dance tribute in London, a takeover of his hometown of Hoboken, and a $500 limited edition of his Sinatra Century whiskey for Jack Daniel's (which is exciting to me both as a whiskey-drinker and as someone who works with brands in the music space at MAC Presents), it's generally great to see more new entry points into such a rich legacy that continues to find new relevance. As the 82-year-old Quincy Jones recalled Sinatra telling him once, "Live everyday like it's your last — one day you'll be right."