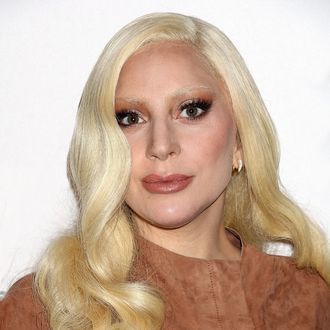 Photo: Laura Cavanaugh/Getty Images
After receiving a Golden Globe nomination earlier this week, Lady Gaga has decided to speak some truth to the world. At a Billboard Women in Music event Friday, the singer opened up about the challenges she faced breaking into the industry. "What I really want to say is that it is really hard sometimes for women in music," she said. "It's like a fucking boys' club that we just can't get in to." After this line, People reports that the crowd broke into applause.
Gaga continued:
I tried for so long, I just really wanted to be taken seriously as a musician for my intelligence more than my body ever in this business … You don't always feel like when you're working that people believe that you have musical background, that you understand what you're doing because you're a female.
She also discussed the ways in which women, facing this challenge, can learn from and support each other in the industry.

Tonight is so important because women provide a wisdom to music that is very unique and special. It is a perspective that no other person can have because we bear life. And we go through things that no one goes through and more importantly because it's right because we're all equal.
Lady Gaga has been making the rounds discussing difficult subjects recently. She also discussed her rape at a TimesTalk about the film The Hunting Ground Thursday.