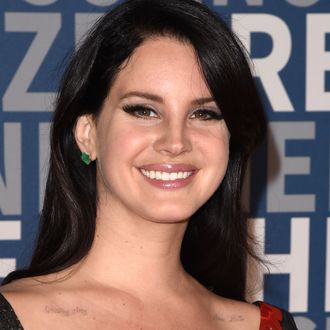 Good thing there will always be more Bond themes.
Photo: C Flanigan/Getty Images
Most of Hollywood has caught on to the allure of Lana Del Rey, adding her to many a soundtrack, but there's one decades-old franchise that's somehow resisted her classic charm. In a new cover story for NME, Lana confirms what we've all been thinking: She was pretty much born to sing a Bond theme and was robbed of the chance to make one for Spectre. "I would've done it if I was asked, but I wasn't asked. I love all of the Bond music that's been put out over the years and I love soundtracks in general," she says, noting that she practically auditioned for a Bond song with "24" and "Swan Song" off her latest album. Seriously, go listen to "24" right now and tell me you can't envision a Bond girl slinking across the screen to it. Sadly for Lana, the Spectre theme went to Sam Smith's "Writing's on the Wall," which got a Golden Globe nomination on Thursday for Best Original Song — an award that should already be on Lana's vintage mantelpiece for "Young and Beautiful." But still, we wait.