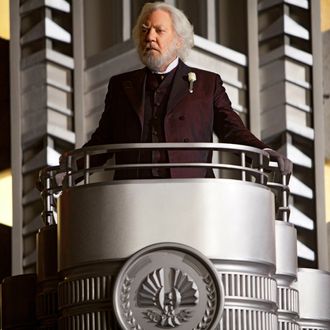 Someone up there likes him.
Photo: Murray Close/Lions Gate Films
Since movie franchises basically don't end anymore, Lionsgate is currently looking for ideas to continue the Hunger Games franchise after it ostensibly wrapped up with Mockingjay — Part 2 last month. This task requires them to brainstorm more ways to show children killing each other, in language that can't help but make them sound a little bit like President Snow. Take Lionsgate vice-chairman Michael Burns, who, according to Deadline, told a crowd of wealthy adults at the UBS Global Media and Communications Conference that he'd like to see prequels about the early Hunger Games — the fun ones, before Katniss showed up and ruined everything. "The one thing that kids say they missed [about the later films] was there was no arenas," he said. "If we went backwards there obviously would be arenas." Burns went on to say that he wishes [name redacted] wouldn't have been killed at the end of Mockingjay, because her idea to make a new Hunger Games arena and fill it with Capitol children was totally boss.