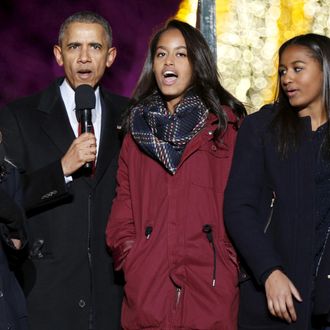 Merry Christmas!
Photo: Kevin Lamarque/Reuters/Corbis
After the smashing success of President Obama's summer sex playlist, the White House is releasing not one, but two dueling holiday playlists — one from the Obamas and the other from the Bidens. Which to choose? It's a battle between rock and soul. The Bidens go with a lot of classic rock, kicking off their playlist with Bruce Springsteen's "Santa Claus Is Comin' to Town" (the Boss also sings "Merry Christmas Baby") and closing out with Paul McCartney's "Wonderful Christmastime." There's some more contemporary stuff in there like Coldplay's "A Sky Full of Stars" and Lady Gaga and Tony Bennett's "Cheek to Cheek," but this is the playlist you might hear at your aunt's Christmas party.
The Obama playlist is, let's say, for more intimate times. It begins with jazz, a Vince Guaraldi arrangement of "O Tannenbaum," before hitting R&B classics like "Let It Snow" by Boyz II Men and Brian McKnight and, yes, the queen of Christmas songs, "All I Want for Christmas Is You" by Mariah Carey. But then Nat King Cole and Natalie Cole are singing "The Christmas Song" and the lights have dimmed, and suddenly we're taking a sleigh ride down into Eartha Kitt purring "Santa Baby" and Luther Vandross serenading you with "Have Yourself a Merry Little Christmas" and finishing it all off with a cigar and a brandy.