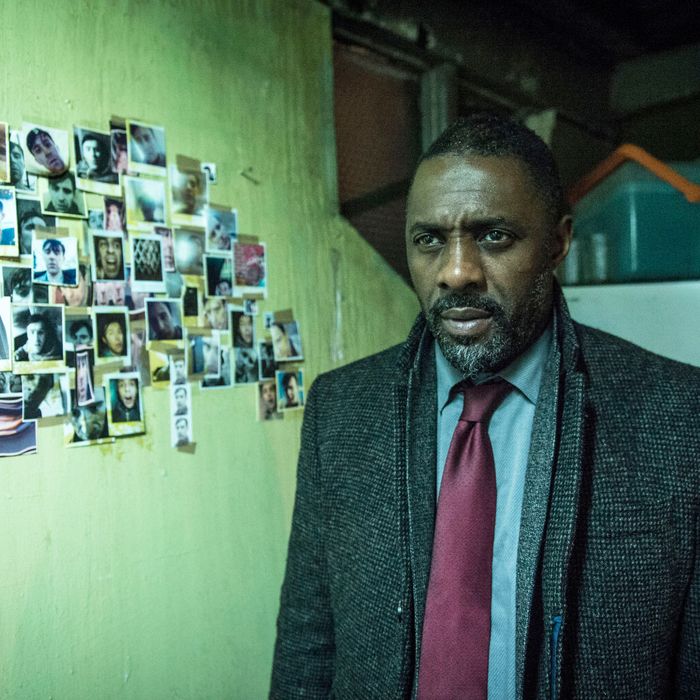 Idris Elba as DCI John Luther.
Photo: Steffan Hill/BBC
Our testy anti-hero is back. As DCI John Luther (Idris Elba) sits on a London park bench with Megan Cantor (Laura Haddock), she asks him a question: "Do you know what it's like to be haunted?" If only she knew who she was talking to. All she knows is that, back in 1999, a young Constable Luther promised to protect her from a teenage girl named Stacey Bell (Seline Hizli), who had confided that she murdered their mutual classmate, Jonathan Black. Stacey even pinned the deed on a local pedophile, then did away with him too. Despite Luther's best efforts, the rank-and-file refused to believe his story, chalking it up to a deviant crime and a perp's suicide.
Luther never forgot about Jonathan and the case, and it compelled him toward an atypical path as a renegade detective. Unfortunately, Megan came away with a portrait of Luther as a lying copper, not to mention those years of sleepless nights fearing Stacey would come after her. Megan Cantor isn't even her real name — it's the new identity she (née Sarah Roberts) assumed to elude her tormentor and possibly pursue vengeance against Luther.
Sadly, Alice Morgan, so memorably inhabited by Ruth Wilson, is no more. (Damn you, The Affair.) It seems that's the doing of mischievous Megan, something Luther might have seen coming had she not, as he creepily observes, "changed a lot" since her schoolgirl days. According to official records, Alice drowned during a Belgian diamond heist gone awry. It's rather telling, however, that Jonathan's alleged killer turned up dead from intentional drowning. Perhaps Megan staged Alice's final moments that way to taunt Luther, the man upon whom she's misplaced responsibility for all her trauma.
On the other hand, Luther's got an ample excuse for missing what's right in front of him. Consider what closes in from every direction: Delusional cannibal Steven Rose (John Heffernan, occupying the muted-recluse end of the Luther maniac spectrum) is offing civilians and eating their remains; Rose also planted the bomb that blew his friend and colleague DCI Theo Bloom (Darren Byrd) to smithereens; his young partner DS Emma Lane (Rose Leslie from Game of Thrones) wants Luther to help tap into her inner vigilante; reputed gangster George Cornelius (played by cross-continental baddie Patrick Malahide), who tried to double-cross Alice during the diamond theft, puts a bounty on Luther's head after enduring one of his signature, off-the-books interrogations; and he's mourning the loss of Alice, or at least what she represented. After all, she was only lifting the jewels so they could escape to the hills of São Paolo and live out what Megan astutely identifies as their own delusional fantasy.
There's a recurring notion throughout this one-off special (which, per BBC America, is a feature-length movie, though it does technically qualify as the start to Luther's fourth season) that we're all dead-alive, coping with the precariousness of our human condition with varying degrees of emotional stability. Look at Megan, whose insomnia and terror has apparently turned her into a paranoid psychopath. Or Luther himself, who's perpetually at the precipice of some figurative cliff, much like the lofty roof he and late BFF/former partner DS Ripley communed atop in the special's dreamy opening moments. And then there's cannibal du jour Rose, who seems to be occupying Billy Baldwin's old voyeur suite from Sliver and "haunts" anyone who has a quality of life he feels entitled to, culminating in the kidnapping of ex-girlfriend Katie Woodward (Hannah Bourne) and her bratty kids.
Rose is thwarted, of course, but not before he bludgeons Mr. Woodward and traumatizes Katie and her teenage children for ten lifetimes. (Where, exactly, did Owen run off to?) And that, in turn, follows a rapid succession of horrific deeds that befall a handful of young professionals — okay, and some closet fetish-site freaks — plus an older couple and their concerned son. (Bonus points for Rose's nod to Norman Bates/Buffalo Bill by gussying up in mom's finest before he devours Declan.)
All of Luther's loose ends get tangled up and somehow resolved in a thrilling, if a bit ludicrous, penultimate sequence: John knocks out a would-be bounty hunter, hurls his way into Rose's underground lair, and stands frozen as DS Lane appears from seemingly nowhere to plug Steven with several rounds — unwittingly deploying a gun she snatched from Luther's glove, which he'd previously nicked off one of Cornelius's goons.
But that's not all: He barely takes a breather at the crime scene before precinct tech wiz Benny (Michael Smiley) pulls him aside and reveals that Megan's got some goodies stashed in a safe-deposit box. A quick visit to the bank confirms, to Luther's dismay, that Ms. Cantor/Roberts had hacked his and Alice's lives. She lifted the diamonds that once represented freedom from what haunts him, but now serve as an emblem of his inescapable ghosts. It's probably best Luther hands them off to Cornelius in exchange for some peace of mind and, crucially, a stash of drugs to plant inside Jonathan Black's toy owl, which Sally snagged back in '99 and morbidly kept on hand.
As Luther's trench coat flaps in the wind one more time, a version of the Cure's "A Few Hours After This" gives voice to the closing shot. A few things now feel certain: Luther still has legs, even as it walks that fine line between unrelenting grit and the self-awareness of Lethal Weapon hijinks; Alice is really, truly dead (long live Alice); and DCI Luther has a new wicked redhead to face. We can't hardly wait.
Apart From All That:
In retrospect, Megan's "hell is real" and "meep meep" claims are some pretty sadistic mind games.
Luther (the character, not the show) really needs his own theme song.
If we're being honest, none of the new characters were multi-dimensional — but hey, it's the Luther show!
Did you really have to kill Mr. Woodward?
Ah, the old "vanish by the time the train passes by" psych-out.
What was with Mrs. Crowley's (Rose's first onscreen victim) first-gen Nokia burner?
Calling Mr. Crowley's mum was a low blow.
I had never realized Benny's last name was Deadhead. Amazing.
You had me at "totally disco."
Give Luther a tiny black-and-white TV, a telescope, and a punching bag, and he's all set.
Rose's abode, conversely, is a bit more specifically furnished.
I kept waiting for "Shaft" to kick in when he dusted off the Volvo and trench coat (or would that be a pea coat?).
Was the erotica-site stuff a reference to the "cannibal cop?"
Note to self: Never trust the Geek Squad.
And finally, as Cornelius might say: Toodle pip!