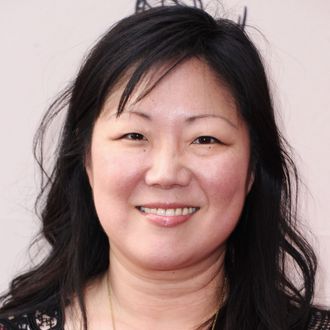 Margaret Cho is not having it.
Photo: Alberto E. Rodriguez/Getty Images
We know you're all very excited for Absolutely Fabulous: The Movie, starring Jennifer Saunders and Joanna Lumley, but comedian Margaret Cho has some bad news for you: There's yellowface. Yes, it's almost 2016, and it's like we're back to Mickey Rooney circa 1961 being really offensive in Breakfast at Tiffany's. Scottish comedian Janette Tough makes a cameo appearance in the film as a male Japanese fashion designer named "Huki Muki" (that is not a real Japanese name) in an outfit that's clearly a reference to the artist Yayoi Kusama. Cho was the first to point out this troubling bit of yellowface, writing on Twitter, "It's hard enough to get into film and TV as a person of color - and when roles written for us are played by white actors - it's an outrage." She tweets:
There are a number of troubling aspects to this beyond the yellowface, which includes making Kusama, who has a noted history of mental illness, a comic figure. Could this be a well-rounded, soul-stirring role? you ask. Unlikely! Considering Huki Muki simply makes a cameo appearance, it's likely the entire thing will just be played to comic effect. Then, there's the troubling fact that casting a white woman as an Asian male plays into troubling stereotypes that Asian men are asexual or effeminate. Regarding her role, Tough said, "It'll be no problem appearing on screen as a man, as I've spent a whole lifetime playing a schoolboy."
At the end of the day, though, this is about work: Who gets employed? For a film with a predominantly white cast to hire a white person in the role of an Asian person simply takes an opportunity away from someone who could have used the break. That is decidedly unfabulous.