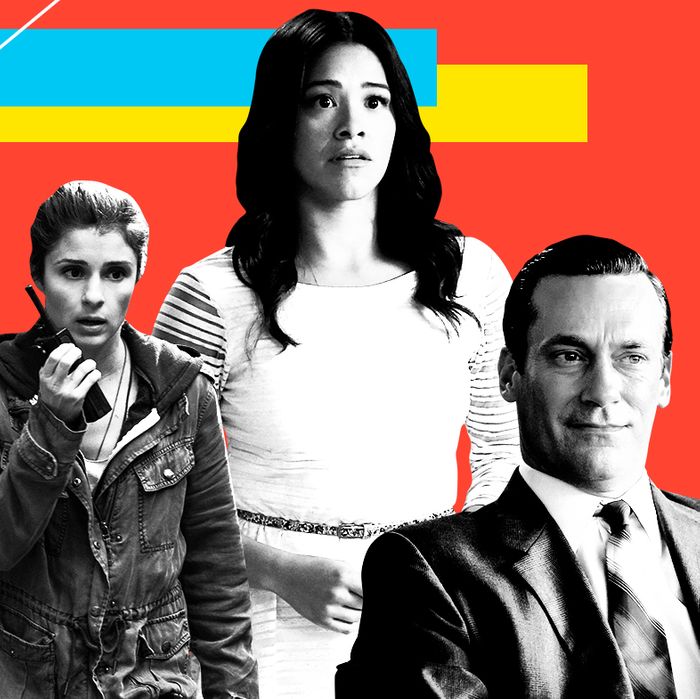 Photo-Illustration: Vulture and Photos by Lifetime, CW and AMC
This month Vulture will be publishing our critics' year-end lists. Last week's lists included movies, albums, art, and video games. This week we started with comedy: sketches, specials, and podcasts. Today we have Margaret Lyons's top shows and Bilge Ebiri's top movies, plus music videos and memes.
1. Mad Men
The show nailed the trickiest feat in modern television: sticking the landing, something even some of its admirable peers couldn't quite pull off. The final half-season gave every character a send-off without betraying the show's fundamental philosophy that we all chronically repeat patterns of behavior. Mad Men managed to echo its early seasons while still moving forward, eventually ending with a finale that was tidy without being fussy — perfect enough to buy the world a Coke.

2. Transparent
Since it just premiered last Friday, only the most passionate of you will have seen all of Transparent's second season at this point. But trust: It's as resonant and beautiful as the first, this time shining even brighter lights into the corners of its characters' hearts. Without spoiling anything, let's just say the season is magical and evocative and wonderful.

3. The Americans
With each episode The Americans ticks more tightly, its language and aesthetic and soundtrack more precise, more gutting, more riveting. So much of the show is, of course, about deception that when moments of frank honesty strike — like when Philip and Elizabeth tell Paige that they're spies — it's like a black-and-white world suddenly flooded with color.
4. Jane the Virgin
Love, romance, passion, forgiveness, a murder-mystery, intense familial bonds, the acknowledgement that religion exists, a tender depiction of the human cost of draconian anti-immigration policies, and the best narrator on television — is there nothing Jane can't provide? Gina Rodriguez's performance alone would probably guarantee the show a spot on this list, but JTV's terrific on all fronts. And note: Its the only network show in my top ten, meaning they're cranking out more episodes than everyone else.

5. BoJack Horseman
Good thing BoJack is funny, because otherwise it would be the saddest show on television. I mean, it's still one of the saddest shows on television, but it's among the funniest, too. Season two pushed beyond BoJack's depression to dig into his depravity, but also his decency. The Lisa Kudrow–voiced Wanda provided some of the show's strongest material, including her brick joke, and her line that "when you look at the world through rose-colored glasses, all the red flags … just look like flags." Oof. Somehow this horse(man) has more to say about being a person than anyone else on television.
6. UnReal
Lifetime gave us one of the most defiantly original shows of the year — of several years, really — with this drama, which weaves together pop-culture satire, social commentary, and authentic human drama, and then packages it as both a takedown and homage to The Bachelor. Shiri Appleby's Rachel is vulnerable yet manipulative, and it's never quite clear how much we should root for her, how much we should pity her, or how much we should genuinely worry about her. What is clear, though, is how much we want to watch her.
7. Catastrophe
The show's bawdiness can't mask its glowing, beating heart. It's hilarious and refreshingly uncynical, with a vitality and momentum that leave you wanting so much more than six episodes. Creators and stars Sharon Horgan and Rob Delaney imbue the show with an emotional generosity — our characters are doing the best they can, and that's pretty damn good. And yet it's not saccharine or phony. (It's too British for that.)
8. The Last Alaskans
Who knew there was anything left in the "it's a reality show … in Alaska!" well? This documentary series rejects the typical high jinx and instead takes a more intimate, not at all contrived look at people living extraordinary lives (and the surprising mundanities associated with extremely remote living). The people profiled are themselves hugely engaging, and the show's superb wilderness footage makes everything even more immersive.
9. Last Week Tonight
John Oliver's educational exasperation seems more essential than ever now that America seems to be sucking itself further and further into the garbage abyss. Save us, John Oliver. Save us.
10. Broad City
Every episode of Broad City is its own distinct entity, be it a drug-fuel dream episode or a series of unfortunate events all on St. Marks Place. Holding all these stories together is one of TV's best friendships, grounding the show in a genuine mutual adoration and allowing it to frolic in cartoon territory. Nothing beats the joy of knowing, "Hey, there's a new episode of Broad City tonight."
Honorable mentions, in alphabetical order:
Being Mary Jane
Bob's Burgers
Crazy Ex-Girlfriend
Deutschland 83
Empire
Fresh Off the Boat
The Fosters
Girls
The Great British Baking Show
Hindsight
Inside Amy Schumer
The Jinx
Key and Peele
The Leftovers
Master of None
Mr. Robot
Narcos
Orange Is the New Black
Playing House
Rectify
Silicon Valley
Unbreakable Kimmy Schmidt
Veep