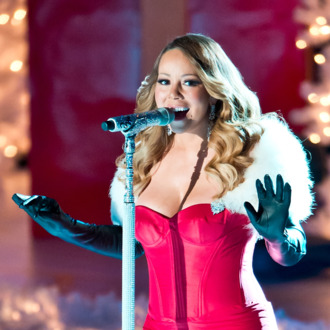 At least Ariana Grande didn't make it onto the list.
Photo: Gilbert Carrasquillo/2013 Gilbert Carrasquillo
Mariah Carey can no longer claim the unimpeachable dominion over the holiday season that she once, like Narnia's White Witch, so thoroughly enjoyed. According to Paste, the singer's hit ode to love and her own vocal chords, "All I Want for Christmas Is You," has lost its No. 1 spot in the list of most-played Christmas songs in retail to The Shins' cover of "Wonderful Christmastime" (because nothing says "nothing matters, buy more shit" like post-Beatles Paul McCartney). Paste cites a report from PlayNetwork, which helps build playlists for all those stores in the mall you stumble through in that Arnold-in-Jingle All the Way-like quest for that one action figure your cousin wants, to compile a list of your brands' favorite inoffensive Muzak. After The Shins' "Wonderful Christmastime," the list puts "All I Want for Christmas Is You" in second place, Christina Aguilera's "Christmas Time" third, and leaves Darlene Love's "Christmas (Baby Please Come Home)" all the way at 20th, because brands truly have no taste.
Luckily for all those Mariah Lambs out there, "All I Want for Christmas Is You" retains its top spot in Billboard's Holiday 100, its importance to the plot of Love, Actually, and its place in the hearts of millions who think a few glasses of rum-spiked eggnog mean they should sign up for karaoke at the company holiday party.