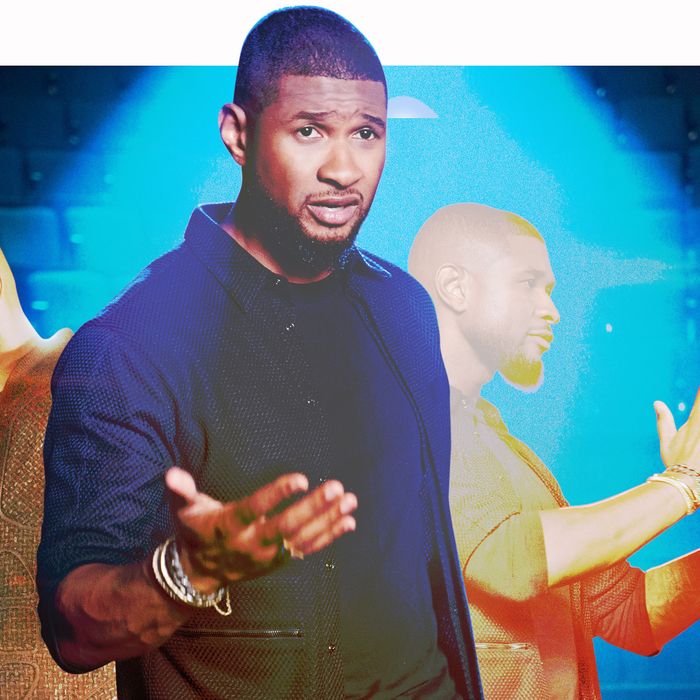 "You name it, I tried it."
Photo: Courtesy of Masterclass
About a year ago, I saw Usher do a Q&A at a charity event. Someone asked him to name the five people, living or dead, he would most like to be in a book club with, and the two he mentioned most enthusiastically were, somewhat incomprehensibly, Sean Connery and SpongeBob SquarePants. Did I ever expect that someday I would find myself in a pedagogical scenario in which this man was my teacher and I his student? No. No I did not.
And yet there I was on a recent morning, loading up the first installment of Usher's 16-part online class, "The Art of Performance." The course is offered through MasterClass, a new company that produces sleekly shot, $90-a-pop web-based tutorials taught by "geniuses" in their fields. Annie Leibovitz teaches photography, Serena Williams teaches tennis, Dustin Hoffman teaches acting. (Hoffman was one of the first high-profile names to sign on; David Rogier, the company's co-founder, is friends with his daughter.) Personally, I have no interest in mastering or even achieving competence in any of those areas, and the forthcoming course in which "Christina Aguilera teaches singing" seemed way, way too daunting. But "performance"? Surely this course was vague enough to impart some sort of life lesson, or at least teach me something about Usher deeper than the fact that he doesn't seem to quite understand the function of a book club.
Each video lesson lasts about ten minutes and has an Inside the Actors Studio aesthetic, with Usher dispensing his wisdom from an empty stage. His lecture style is serious but chatty; you quickly learn that he likes the word chutzpah. He uses it a lot in the early lessons, which emphasize that the most valuable quality for an aspiring performer is tenacity. "You name it, I tried it," he recalls of his early career. "If I knew that someone [important] was in the same bathroom with me, I would start singing to try and get his attention." (I wonder if he will regret this advice the next time he is recognized at a urinal.) I learned about certain exercises that Usher recommends to increase your lung capacity, such as singing while doing high-intensity cardio. How this hasn't become a New York fitness craze, I don't know.
The course also includes a digital workbook, and each lesson ends with a homework assignment. My favorite was an exercise meant to teach the importance of powering through unexpected performance glitches: "Tap two friends who think they're pranksters," Usher instructs, "have them come up with two or three ways to interrupt your rehearsal … See if you can get through the performance without skipping a beat." This type of determination drill came in handy, our professor tells us, during the most embarrassing moment of his career, when he split his pants while singing for Bill Clinton.
Just like any course, you get out of Usher's MasterClass pretty much what you put into it — which is to say, in the case of a somewhat skeptical journalist with quite literally no performing talent, very little. (Except maybe a few tips and tricks for her next evening at a karaoke bar, which will happen soon.) My favorite part of the Usher MasterClass experience, though, was browsing the corresponding online "lesson discussion" board, which is a font of encouragement and positivity. Students are able to comment on the class, post the YouTube videos of which they're the proudest, and link up with like-minded collaborators. One student recently posted an impressive video of a dance he choreographed to a Justin Bieber song. "Dope, bro!" another student commented. "Love the style, footwork, and control!" The instructor, perhaps understandably, has yet to chime in.
Usher's MasterClass "The Art of Performance" course is available now.
*This article appears in the December 28, 2015 issue of New York Magazine.